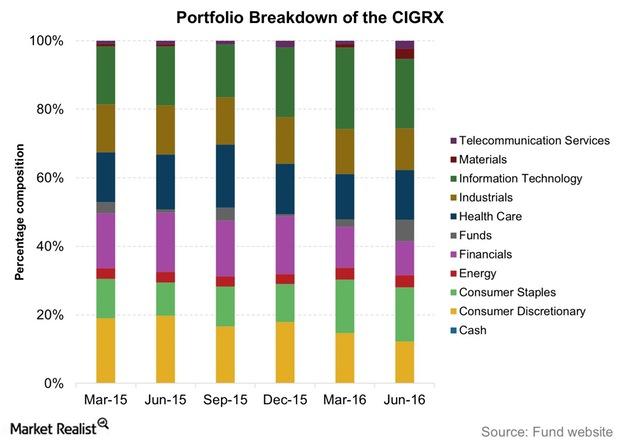 What's the Sector Composition of CIGRX?
By David Ashworth

Aug. 26 2016, Updated 5:39 p.m. ET
Calamos International Growth Fund overview
The Calamos International Growth Fund invests in non-US growth companies and positions itself as a growth-focused offering to a "mostly core- or value-intensive international allocation." The fund house believes that the international assets class comprises mostly of core and value offerings and "only about 10% of international stock assets are currently invested in growth." Fund management looks at increasing profit margins and high returns on invested capital as key growth characteristics.
Article continues below advertisement
Fund management expects at least 40% of the fund's assets to be invested in foreign issuer securities. This is so because managers look at the source of revenue of a company rather than the location of its headquarters. Thus, a company may be located in the US, but if a large portion of its revenue comes from abroad, then the fund can invest in it. The fund can invest across market caps and employs both top-down and bottom-up research in order to select securities for the portfolio.
The fund's assets were spread across 76 holdings as of June 2016 and was managing assets worth $435 million as of the end of July. As of June, its equity holdings included Allergan (AGN), Toyota Motor Corporation (TM), LVMH Moët Hennessy Louis Vuitton S.E. (LVMUY), Unilever N.V. (UN), and Fanuc (FANUY).
Article continues below advertisement
Portfolio changes in the Calamos International Growth Fund
The top invested sector of the CIGRX is information technology. Consumer staples is a distant second, followed by health care. The three sectors form a combined 53% of the fund's assets.
Compared to the MSCI ACWI ex-U.S. Growth Index, the CIGRX is overweight on the information technology, healthcare, and energy sectors while being underweight in the consumer staples, financials, materials, and telecom services sectors.
The sector weights in the portfolio have seen quite a bit of change in the past three years. For instance, at one point during the three-year period until June 2016, the consumer discretionary sector formed as much as 24% of the portfolio. This allocation has now fallen to 13.5%. Meanwhile, the share of consumer staples has seen a low of 1.5% and a high of 16.6% during the three-year period, the latter being its present share.
How has this sharp shift in allocation worked for the Calamos International Growth Fund – Class A (CIGRX)? Let's look at that in the next article.