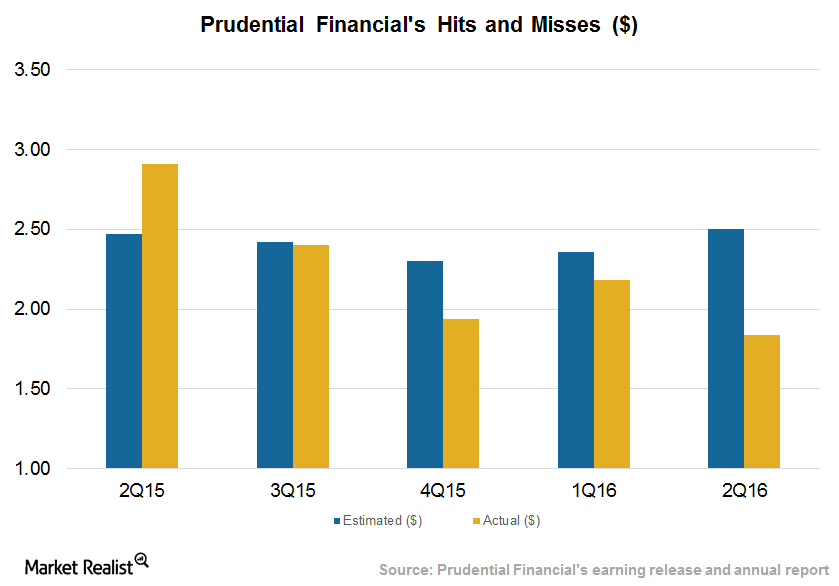 Prudential Saw a Fall in 2Q16 on Lower US Sales
Missed estimates
Prudential Financial (PRU) reported its 2Q16 earnings results on August 3, 2016. It reported adjusted operating income per share of $1.84 in 2Q16, lower than estimates of $2.50 and lower than $2.91 in the corresponding period last year.
The stock fell by 4.2% on weak operating performance. The fall resulted from the adverse impact of weaker non-coupon investment results, a fall in the Individual Annuities and Life segment, and lower international insurance revenue.
Article continues below advertisement
In 2Q16, Prudential's revenue fell 5% year-over-year to $11.8 billion. It reported net income of $0.9 billion, or $2.04 per share, compared to net income of $1.5 billion in the prior year's quarter. On a constant dollar basis, the company saw a fall in both its US Retirement Solutions and US Individual Life segments.
The International Insurance segment saw sales of $747 million in 2Q16, a rise of 7% on a constant dollar basis compared to the previous year's quarter. This reflected a 53% rise in sales of US dollar–denominated products in Japan.
Insurance and asset management
Prudential Financial had ~$1.2 trillion worth of assets under management as of March 31, 2016. It has operations in the United States, Europe, Asia, and Latin America.
The company's product offerings include retirement-related services, mutual funds, life insurance, investment management, and annuities. Prudential Financial offers these products and services to institutional and individual customers through proprietary and third-party distribution networks.
The Americas remain the major contributor toward the company's top line. In the United States, Prudential Financial's competitors include ACE (ACE), Chubb (CB), and Allstate (ALL). Together, these companies form 0.63% of the iShares MSCI ACWI ETF (ACWI).
Prudential Financial's investment portfolio consists of public and private fixed maturity securities, equity securities, commercial mortgages and other loans, and other invested assets.
In the following parts of the series, we'll study Prudential's various segments, asset management, capital structure, strategies, dividends, and valuations.