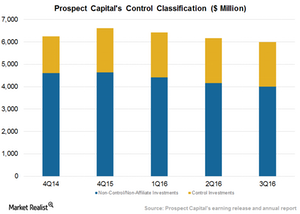 Prospect to Deploy More in Control, Online, Structured in 4Q16
Rise in controlled investments
Prospect Capital's (PSEC) controlled investments in the March quarter stood at 33.3% of its total portfolio compared to 32.5% in the previous quarter. In the June quarter, the proportion can rise further as it seeks attractive opportunities.
The trend of controlled investments is expected to continue in 2016. The company can target lower risk and marginally higher returns in the combination of controlled and structured investments.
Prospect selectively monetizes its controlled positions on good prices. Subsequently, it has deployed the proceeds into attractive new opportunities yielding higher returns at lower risks.
Article continues below advertisement
Online, NPRC
Prospect Capital is deploying investments for the online lending industry. Its focus is on near-prime, prime, and subprime consumers as well as small business borrowers. It generated 20% of its origination in the quarter through online lending.
Overall originations fell substantially in fiscal 3Q16. During fiscal 2014, the company entered the online lending industry jointly with National Property REIT (or NPRC). Its total business currently stands at ~$700 million across multiple third-party and captive origination and underwriting platforms. In fiscal 3Q16, the company made one follow-on investment in NPRC totaling $2 million.
The company currently delivers an expected leveraged yield of ~17%. In 2015, it closed four bank credit facilities and one securitization to enhance its returns.
It's also focusing on diversifying origination sources for its online business in order to generate more leads. Earnings per share growth in the investment management space is as follows:
Together, these companies form 14.8% of the ProShares Global Listed Private Equity (PEX).
Portfolio quality
In the March quarter, Prospect's structured credit equity portfolio generated an annualized cash yield of 27.0% and an annualized GAAP (generally accepted accounting principles) yield of 17.7%. The portfolio generated $633.7 million in cumulative cash distributions, representing 48.8% of the original investment.
In addition, the company exited seven structured credit investments totaling $153.6 million. It had an average realized internal rate of return of 16.8% and a cash-on-cash multiple of 1.42x.
In the next part of this series, we'll look at Prospect's higher leverage, which allows it to take advantage of low interest rates.
Structured credit
Prospect has been focusing on the strategy of pursuing majority stakes, working with strong management teams, providing strong collateral underwriting through primary issuance, and targeting attractive risk-adjusted opportunities.
As of March 31, 2016, Prospect had invested in 38 structured credit investments with a fair value of $996 million. It provided individual standalone non-recourse financing to the company, and risk capped at the net investment amount. Its underlying structured credit portfolio is comprised of more than 3,000 loans and a total asset base of more than $18.5 billion. The portfolio experienced a trailing 12-month default rate of 1.2%, or 59 fewer basis points than the broadly syndicated Market rate of 1.8%.