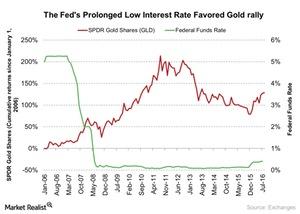 What's the Best Approach to Chasing the Gold Rally in 2016?
By Sarah Sands

Updated
Gold rally in the current investment scenario
The ongoing turmoil in global markets (ACWI) (VEU) and central banks' persistently low interest rates have been favoring the movement of gold. Investors generally look for safe-haven assets like gold amid international turmoil.
Now the S&P 500 index is making new highs while US economic growth (QQQ) (SPY) is showing weaker performance. Prominent fund manager and CEO of DoubleLine Capital, Jeffrey Gundlach, spoke to this point recently, pointing out the difference between the highs of the S&P 500 index and the US second quarter GDP. In this situation, the tightening of interest rates would not be a welcome step. According to market participants, a rate hike will only be appropriate when the economy shows a stronger move.
Article continues below advertisement
Citi's stance on gold's recent movements
Gold prices showed a huge rally in this year, rising by 28.14% on a YTD (year-to-date) basis as of August 2, 2016. In fact, gold has been the best-performing commodity (DBC) in 2016. On July 4, 2016, gold touched a high of $1,384 per ounce. On Wednesday, August 3, 2016, it was trading at $1,363 per ounce.
In the first week of August 2016, Citi (C) said to its clients that the best approach to chasing the gold rally in 2016 is to buy a select group of gold mining stocks. According to Citi analyst Alexander Hacking, gold (GLD) mining companies are focusing on cost-cutting and reducing capital expenditure because they want to increase their cash flow positions. Hacking specified that "gold prices have improved, but gold miners do not yet believe in its longevity."
In this short series, we'll analyze the top gold mining stock picks from Citi. Let's move now to a few fund managers' stances toward the movement of gold.