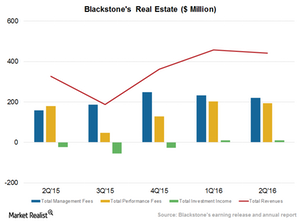 Blackstone Leads the Real Estate Market in Liquidity, Performance
By Robert Karr

Updated
Subdued profitability
Alternative asset managers (IYF) have seen their profits fall in real estate over the past couple of quarters. However, real estate has been relatively strong, as employment and pay scales have improved over the past few years.
Blackstone (BX) reported a 35% rise in its real estate division's total revenue compared to the corresponding quarter last year. It rose to $441 million compared to $326 million.
Article continues below advertisement
The division's opportunistic funds' carrying value rose by 2.2% during the quarter due to gains in private investment values, partially offset by reductions in value for the London office's holdings. Its core funds' carrying value rose by 2.1% during the quarter, and its assets under management rose by 13% over 2Q15 to $103 billion.
The Carlyle Group (CG) saw its real estate funds appreciate by 27% in 2015. The company made investments in the Chinese real estate website operator SouFun Holdings.
In 2Q16, Carlyle Group's (CG) carry fund valuations rose by 5%. This reflected some recovery in its portfolio valuations, led by private equity funds and real assets such as real estate and natural resources. On a trailing-12-month basis, Carlyle Group's carry fund portfolio valuation rose by 3% due to strength in US buyouts and US real estate funds.
Fundraising
The real estate market attracted new investments on the back of an improving housing market. Blackstone raised $4.1 billion during the quarter. Of this total, $1.4 billion was for the fifth European opportunistic fund, $1.2 billion was for the third mezzanine debt fund, and $1.0 billion was for US Core Plus funds.
Blackstone realized a total of $3.4 billion driven by private asset sales in the Equity Office Property and Trizec portfolios, two secondary equity offerings of the Brixmor public stake, and the sale of a 66% interest in Tysan Holdings, a publicly listed real estate company based in Hong Kong.
KKR & Co. (KKR) manages $1.8 billion through Real Estate Partners Americas and Real Estate Partners Europe. Apollo Global Management (APO) saw its real estate portfolio rise in the single digits in 2Q16 and by 16.3% in 2015.
In the next article, we'll see how oil's price rebound has impacted alternative managers.