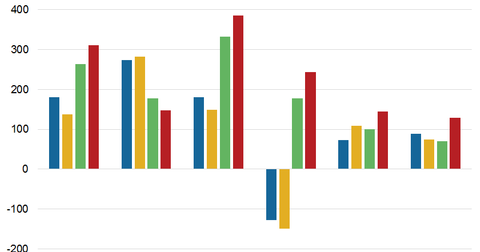 Will Carlyle See Improved Realizations in 2Q16?
By Robert Karr

Updated
Weak Performance Realizations
Carlyle Group's (CG) post-tax distributable earnings dropped to $129 million in 1Q16, which was 13% lower than in 1Q15. The company's distributable earnings were affected by lower performance fees and management fees. Distributable earnings include proceeds from assets sold during the period and cash available for distribution to shareholders. The company's major share sales in 1Q16 came from the following:
Landmark Aviation
World Strides
Seven Days Group Holdings
Article continues below advertisement
Carlyle's fee-related earnings remained flat on a YoY (year-over-year) basis, boosted by higher transaction fees but offset by lower management fees. The company boosted its distributable earnings through exits, which resulted in higher dry powder as of March 31, 2016. Its fee-related earnings stood at $51 million in fiscal 1Q16, which was in line with fiscal 1Q15.
Economic net income
CG's ENI (economic net income) fell to $89 million in 1Q16, as compared to $212 million in 1Q15. On a quarterly basis, its ENI was positively impacted by strong carry fund valuations in real estate and US buyout funds, partially offset by depreciation in Asia buyouts.
Carlyle's operating margin was 13% in fiscal 2015. Let's compare this with the operating margins for Carlyle's peers:
Together, these companies make up ~1.4% of the Financial Select Sector SPDR ETF (XLF).
Negative performance in GMS
Carlyle's performance fell on a decline in its Energy and Global Market Strategies segments. It's realized performance fees stood at $70 million in 1Q16, as compared to $178 million in 1Q15. The company benefited from the appreciation of its private equity portfolio, and this fall was on account of lower realizations in its corporate private equity and real assets funds.
Carlyle's Global Market Strategies segment reported losses in the majority of its credit investment and hedge funds. In 1Q16, the company's hedge fund saw redemption requests of $1.8 billion and a return of $0.8 billion in capital to DGAM (diversified global asset management) investors. The firm's management expects further redemptions from hedge fund partnerships to reach $1 billion–$2 billion over the next few quarters and to return the remaining $1.5 billion to DGAM fund investors.