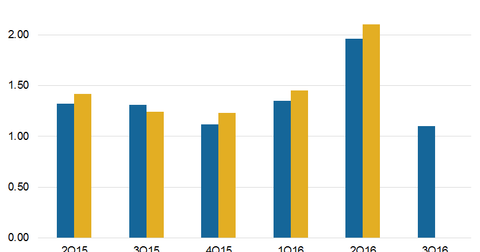 Warren Buffett Seems to be Right on Amex: Q2 Results
By Robert Karr

Updated
Amex beat the estimates
American Express (AXP) reported its 2Q16 earnings on July 20. With EPS (earnings per share) of $2.10, the company beat Wall Street analysts' estimates of $1.96. The company posted a net profit of $2 billion, which included a $1.1 billion ($677 million after taxes) gain from the sale of its Costco co-brand card portfolio and a $232 million charge to cover its efforts to reduce costs. The stock rose 0.5%, reflecting a positive trend over the past few months.
Article continues below advertisement
The company's total revenue, net of interest expenses, fell marginally to $8.23 billion compared to $8.28 billion in 2Q15. Charles Munger had expressed some concerns over the company's future growth. However, Buffett has shown confidence, as the overall industry evolved to new normals and Amex is adjusting to those changes.
Kenneth Chenault, American Express's chairman and CEO (chief executive officer), stated in the company's July 20, 2016, press release, "Operating results were solid this quarter and consistent with the financial outlook we provided earlier in the year. We are making good progress on our initiatives to accelerate growth: acquiring 3 million
new proprietary cards worldwide; generating additional spending on our global network; expanding merchant coverage; and continuing to meet the borrowing needs of Card Members while maintaining strong credit quality."
Sizeable issuance
American Express, the world's largest card issuer, is a global services company that provides payment, travel, and expense management solutions. Geared toward individuals as well as businesses, its primary offerings are credit and charge card products and travel services.
With a network of high-spending card members, American Express's annual charge volume exceeded $1 trillion in 2015. Visa's (V) annual charge volume was $7.5 trillion, and Mastercard's (MA) was $4.8 trillion in 2015.
American Express is the biggest player in the card market based on purchase volumes, followed by JPMorgan Chase (JPM). American Express and JPMorgan Chase together make up 1.7% of the iShares Core S&P 500 ETF (IVV).
In this series, we'll take a look at American Express's volumes, charges, issuances, balance sheet strength, dividends, and valuations.
Let's start with its US business and how it has expanded on interest and spending.