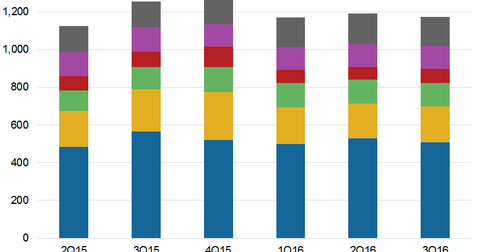 Visa Manages to Lower Expenses in Fiscal 3Q16
By Robert Karr

Jul. 26 2016, Updated 8:07 a.m. ET
Low expenses, greater margins
Visa has always maintained a proactive expense management program, which has helped it maintain its attractive operating margin of above 60% consistently for years. Major expenses that constitute its operational activities are personnel, marketing, network and processing, and professional fees.
Expense for the quarter fell by 7% and remained flat year-to-date versus 2015. Lower personnel and marketing costs contributed to lower-than-projected expenses in the quarter, falling by 10% and 16%, respectively, on a year-over-year basis. The company reported a healthy operating margin of 68% during fiscal 3Q16.
Visa saw its operating revenue rise by 3% and its operating income rise by 9% in fiscal 3Q16 compared to fiscal 3Q15. The company's operating expenses fell by 7% during the same period, mainly due to lower personnel and marketing costs partially offset by higher general and administrative costs.
Visa achieved total revenue of $13.9 billion in the last fiscal year. Here's how some of Visa's peers in the payment-processing industry fared in terms of revenue:
Mastercard (MA): $9.5 billion
American Express (AXP): $35.9 billion
Discover Financial Services (DFS): $7.6 billion
Together, these companies account for 2.3% of the SPDR Dow Jones Industrial Average ETF (DIA).
Article continues below advertisement
Road map ahead
Visa's management has laid out the guidance for its 4Q16 performance, expecting to achieve revenue growth of 5% to 6%. This is in line with the previous quarters for fiscal 2016 with a 3% of negative foreign currency impact.
Visa expects 2% to 3% expense growth for legacy Visa in 4Q16 from marketing and higher technology project spending related to the Rio Olympics. Client incentives are expected to be ~18.5% in order to compete against other major players in the industry
Visa's EPS (earnings per share) growth for fiscal 2016 is expected to be in the low end of the mid-teens. The negative impact from foreign currency is expected to be 4%. For the year, the company expects free cash flow of $7 billion.