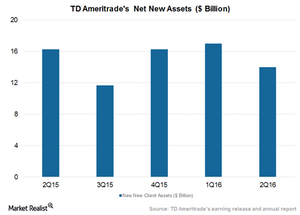 TD Ameritrade Expects Net Assets on Retail in Fiscal 3Q16
By Robert Karr

Updated
Client assets
TD Ameritrade (AMTD) ended its fiscal 2Q16 with a record $711 billion in client assets, up 2% from the previous year. As of May 30, 2016, its client assets rose further to $728 billion, reflecting a rise of 3% on a year-over-year (or YoY) basis.
The company's rise in client assets has been steady, indicating that its strategy of aggregating assets is working in the right direction.
TD Ameritrade's average fee-based investment balances also hit a record $161 billion, a rise of 3% YoY in fiscal 2Q16. Its interest-sensitive assets were $112 billion, a rise of 11% YoY. In fiscal 3Q16, its average fee-based investment balances and interest sensitive assets remained in line with fiscal 2Q16.
TD Ameritrade added net new client assets of $14 billion in fiscal 2Q16, reflecting an 8% annualized growth rate. Fiscal 2Q16 was the third best asset-gathering quarter in the company's history.
Article continues below advertisement
Retail contribution rises
TD Ameritrade continues to see strong performance in its retail and institutional channels. Its retail channel delivered YoY growth in net new assets mainly due to branch-led referrals and engagements. The company's efforts to further refine and optimize its acquisition marketing spending are yielding higher quality new accounts.
Barron's has named the company "the best for novices" and "the best for long-term investors" in its annual broker review for each of the last four years.
The company's institutional channel delivered strong results during the quarter but saw slower growth from existing advisors as a result of market conditions. However, its sales pipeline is strong and is expected to see higher growth in the upcoming quarter.
Here's how a few of TD Ameritrade's peers in the brokerage industry fared in terms of net profits in the last fiscal year:
Interactive Brokers Group (IBKR): $459 million
E*TRADE Financial (ETFC): $293 million
Charles Schwab (SCHW): $1.3 million
Together, these companies form 0.26% of the SPDR S&P 500 ETF (SPY).