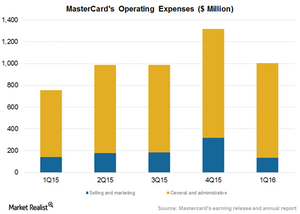 Mergers and Marketing Efforts Pressure MasterCard's Margins
By Robert Karr

Dec. 4 2020, Updated 10:53 a.m. ET
Rebates and discounts
MasterCard's (MA) rebates and incentives rose by 18% to $1.0 billion in 1Q16. These were higher than expected, mainly due to the timing of some deals in the works and some acquisitions. In 2Q16, rebates are expected to be in line with 1Q16 and higher than 2Q15.
MasterCard is focusing on finalizing more partnerships instead of spending directly on marketing efforts. The company's advertising and marketing expenses fell by 5% to $135 million in 1Q16 compared to $142 million in 1Q15.
Article continues below advertisement
2Q16 rise
MasterCard's expenses are expected to rise in 2Q16 due to increased marketing efforts. On a year-over-year basis, the company's top line is expected to rise by 8% and by a net of 5%, reflecting higher operating expenses.
The company's general and administrative expenses include personnel, network and processing, and professional fees. General and administrative expenses rose by 34% to $868 million in 1Q16 compared to 1Q15. This was higher mainly due to severance costs related to acquisitions.
MasterCard achieved total revenue of $9.5 billion in 2015. Here's how some of MasterCard's peers in the payment processing industry fared with their revenues in 2015:
Visa (V) – $13.9 billion
American Express (AXP) – $35.9 billion
Discover Financial Services (DFS) – $7.6 billion
Together, these companies account for 2.4% of the iShares Russell 1000 Growth ETF (IWF).
Merger expense
MasterCard's operating expenses, including M&A (mergers and acquisitions) costs adjusted for currency impact, rose by 4%.
The company posted an operating margin of 55%, which was in line with the prior year's quarter. Its operating income for 1Q16 remained flat (or at a 4% rise adjusted for currency), compared to the previous year's period.
In 2015, the company posted an operating margin of 54%, which was similar to the prior year's period. In 2015, its operating income was $5.2 billion, a rise of 2% compared to 2014.
In the final part of our series, we'll look at MasterCard's expectations for moderate growth and steady valuations.