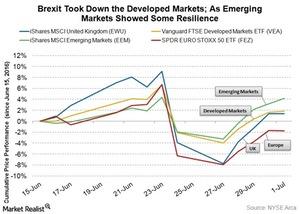 Investors Shift Their Focus to the UK—What Lies Ahead?
By Surbhi Jain

Nov. 20 2020, Updated 3:35 p.m. ET
The UK in the headlines
Britain and the UK has been dominating the headlines for the past two weeks. The Brexit referendum held on June 23, which resulted in Britain deciding to leave the European Union, shook the world (VTI) (VXUS) markets.
With the news of the Brexit vote tearing down the European (EZU) (HEDJ) (DBEU) and the British (EWU) markets, uncertainty seems to be here to stay. On July 1, the Vanguard FTSE Europe ETF (VGK) and the SPDR Euro STOXX 50 ETF (FEZ) had fallen by ~5% each since June 23.
The iShares MSCI United Kingdom ETF (EWU) was down by 5.6%. The financial sector, particularly banks, was hit particularly hard on news of the Brexit vote.
Following the Brexit vote, other developed countries' capital markets have also come under pressure. With heightening volatility, we're seeing funds flowing from the developed markets (EFA) (VEA) to emerging market equities (VWO) (EEM) and other safe-haven bets such as gold (GLD) or bonds (BND).
Please read Mark Mobius: The Fate of Emerging Markets after the Brexit Vote for more insight. The focus has shifted to what's next for the UK and the European Union.
Article continues below advertisement
Is the UK heading toward a recession?
A week after the referendum, the International Monetary Fund chief, Christine Lagarde, spoke in Vienna about the risk that Brexit could lead the UK into a recession. Lagarde doesn't see Britain gaining any economic advantage from the separation.
There's enough Market debate over whether Brexit is a good thing for the UK, as well as whether it was the result of a pure immigration vote or a larger economic issue. There are opinions being exchanged about whether Brexit would lead to a contagion in the rest of Europe, triggering other European Union member countries to follow suit.
Charles Payne, host of Making Money with Charles Payne on Fox Business Network, offers an interesting perspective on this issue. According to Payne, "When global elites disconnect from the lower middle class, you get a disruption like this." Payne sees this happening with other Western nations and Japan.
However, whether these repercussions could lead to a recession in the UK, only time will tell. Ben Huneke, managing director of Morgan Stanley and head of the alternative investments area, doesn't see any of that coming.
In this series, we'll look at some asset manager perspectives on the Brexit vote and its effect on the Market. We'll identify factors that could lead to similar votes, and we'll discuss what lies ahead for the UK.