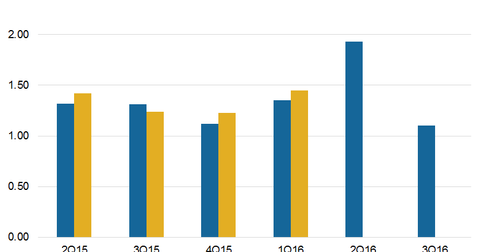 What to Expect of American Express's Earnings in 2Q16
By Robert Karr

Updated
2Q16 spending to benefit
American Express (AXP) is expected to post its earnings per share (or EPS) of $1.93 for 2Q16, $5.57 for 2016, and $5.60 for 2017. Analysts expect weak performance until 2017. Amex's top line is expected to be in line with 2Q15's number of $8.3 billion.
Overall, Amex's valuations have been weak and low compared to its peers, and the company has seen weak operating performance recently. As a result, Charlie Munger, vice chairman of Berkshire Hathaway, is concerned about the company's future.
However, Berkshire Hathaway's CEO, Warren Buffett, is confident about the company's future and its capacity to form more partnerships.
Article continues below advertisement
1Q16 EPS
American Express (AXP) reported its 1Q16 earnings with EPS (earnings per share) of $1.45. The company beat Wall Street analysts' estimates of $1.35. This was mainly due to increased spending, as well as its new partnerships and initiatives.
AXP stock has declined after the Brexit vote, although it has recovered from the lows. The first quarter of 2016 saw a consolidated provision for losses of $434 million compared to $420 million in 1Q15.
The company's total revenue, net of interest expense, rose by 2% to $8.1 billion compared to $8.0 billion in 1Q15. The company continues to carry a strong brand and can revive on a higher number of partnerships.
Sizable issuances
American Express (AXP), the world's largest card issuer, is a global services company that provides payment, travel, and expense management solutions. Geared toward individuals as well as businesses, its primary offerings are credit and charge card products and travel services.
With a network of high-spending card members, American Express's annual charge volume exceeded $1 trillion in 2015. In comparison, Visa's (V) annual charge volume was $7.5 trillion, and Mastercard's (MA) annual charge volume was $4.8 trillion in 2015.
American Express is the biggest player in the card market based on purchase volumes, followed by JPMorgan Chase (JPM). American Express and JPMorgan Chase together make up 1.7% of the iShares Core S&P 500 ETF (IVV).
In this series, we'll look at American Express's expected 2Q16 volumes, charges, issuances, balance sheet strength, dividends, and valuations. Let's start with its US business and how it has expanded on interest and spending.