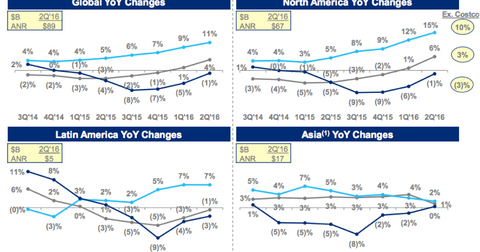 Why Is Citigroup Banking on Its Cards Business?
By Rebecca Keats

Jul. 21 2016, Updated 3:06 a.m. ET
Citigroup's cards business
Citigroup has been investing heavily in growing its cards business. The credit cards business produces high returns for Citigroup. Consumer credit and purchases are both growing in the United States (SPY). This is a very competitive business. Marketing efforts are expensive, but the return potential is about double that of other key business lines. The company expects revenues in this business to be driven by Costco once the acquisition is complete.
Article continues below advertisement
In the second quarter, Citigroup's branded card business continued to drive earnings. The Costco portfolio acquisition that closed in June added $0.7 billion and 337,000 new accounts during the month—this exceeded expectations. UBS expects the Costco portfolio to add $200 million to Citigroup's third quarter revenues. At the 2Q16 earnings call, Citigroup's CFO John Gerspach called the Costco card launch "one of the largest portfolio implementation transfers on a single day that's ever been attempted. And that's not to give us excuses, I mean, we should be performing better than we are, but we're working on that. But again, it's a massive program." Gerspach also told analysts that Citigroup's new Costco business includes "330,000 new card acquisitions just since we took over the book, that far exceeded our expectations by a factor of 2 and 2.5 times."
In March 2015, Costco announced the sale of its US co-brand credit card portfolio to Citigroup after its relationship with American Express (AXP) ended. This deal is estimated to be worth $1 billion. It closed in June 2016 and led to the transfer of all Costco American Express co-branded accounts to Citigroup. After the transaction, Costco cardholders have been moved to the Visa (V) network from American Express. Citigroup also renewed its partnership with American Airlines (AAL) during the second quarter.