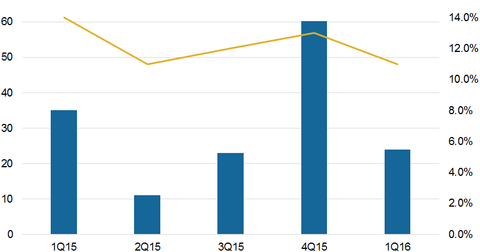 BlackRock's iShares Expected to Expand in 2Q16
By Robert Karr

Jul. 1 2016, Published 2:44 p.m. ET
BlackRock's iShares
BlackRock's (BLK) iShares had assets under management (or AUM) of $1.1 trillion as of March 31, 2016. The company continues to bring in innovative themes to address investor needs.
In the June quarter, BlackRock launched two new funds that provide access to international and emerging market stocks with positive environmental, social, and governance characteristics. The company is also closing down funds that aren't attracting strong flows in order to divert resources toward new and evolving themes.
Article continues below advertisement
BlackRock's iShares' AUM formed 25% of the company's total AUM. Its long-term inflows for the quarter stood at $24 billion, driven by record inflows of $27.5 billion in fixed income. Over the past few quarters, investors have seen an erosion of premium returns from active fund managers. They're thus deploying funds through ETFs in order to save on higher fees. Institutional investors have started deploying their portions of funds in ETFs alongside retail investors.
Technology and offerings
BlackRock is investing in technology and offerings in order to build on iShares' perceived value of liquidity and transparency. iShares will benefit significantly in the event of favorable Market movements. However, the company could continue to face pricing pressure due to the entry of new players in the Market.
BlackRock posted net income of $3.3 billion in the last fiscal year. Let's compare this to the net incomes of its peers:
JPMorgan Chase (JPM): $21.8 billion
Bank of New York Mellon (BK): $2.7 billion
State Street (STT): $2.0 billion
Together, these companies form 8.7% of the Vanguard Financials ETF (VFH).
Performance
Total AUM for iShares rose $35 billion compared to the previous quarter. This was mainly due to long-term inflows, positive markets, and foreign exchange fluctuations. Market changes and foreign exchange led to a positive impact of $11 billion.
Equities declined by $5.5 billion, offset by a rise of $6.8 billion in fixed income. BlackRock's iShares offerings' total base fees declined by $22 million in 1Q16 to $791 million compared to $813 million in the previous quarter. iShares' base fees formed 35% of the company's total fees in 1Q16, similar to the previous quarter's proportion. The fall in fees was mainly due to lower pricing resulting from competition in the ETF market.
Base fees for equities fell by $61 million to $623 million in 1Q16 compared to $684 million in the previous quarter. This was partially offset by a rise of $22 million in fixed income base fees, totaling $152 million.
Next, let's look at BlackRock's retail business and why it prefers debt funds over equity.