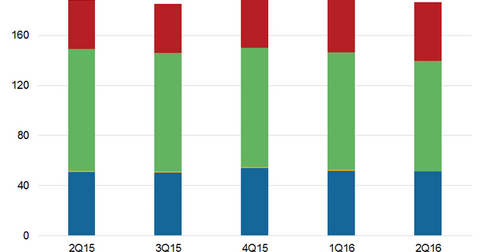 Will Subdued Interest Rates in 2016 Benefit Levered Closed-End Funds?
By Robert Karr

Updated
Interest rates
Closed-end funds (PSP) deploy leverage in order to generate returns for shareholders. The method works in tandem with interest rates when they're low, and as interest rates rise, companies with highly leveraged portfolio investments see lower returns due to higher interest costs—higher risks result from the declining cash flows that come from higher interest rates. In March 2016, the Fed kept interest rates steady, and now, if we look at the rebound in bond markets, it should be evident that the market is expecting slower and lower rate hikes.
Article continues below advertisement
The Fed raised the federal funds rate by 25 basis points in December 2015. Global markets then rebounded in March, although they remain weak amid lower manufacturing and sluggishness in China. Meanwhile, closed-end funds are expected to borrow and roll over on a short-term basis in order to reduce interest costs. But a sizable portion will be raised on a long-term basis in order to match funding as well as maintain credit ratings.
The selection of portfolio companies will also be impacted, as funds may prefer companies with less leverage in order to secure their interest and principal payouts. Companies are expected to deploy less capital in structured credit and low-grade credit as interest rates rise, and so companies might deploy more capital in the form of equity or senior credit in order to reduce risk on investments.
Early redemptions
Prospect Capital's (PSEC) cost of debt was approximately 5.4% on March 31, 2016, as compared to more than 6% last year. It achieved this reduction by repaying certain high-cost debts and by using its revolving credit facility efficiently. Ares Capital (ARCC), by comparison, has completed an early redemption for $200 million of the aggregate principal amount of unsecured notes that were originally scheduled to mature in 2040. The company is funding these redemptions by borrowing under a revolving credit facility. A continuation of this could result in $0.03 benefit per share on an annualized basis.
For this reason, asset managers with high leverages, such as Apollo Investment (AINV) and United Rentals (URI), have focused on replacing their high-cost debt with lower costs in order to boost returns.
Now let's look at the earnings expectations of BlackRock, Prospect, and Ares going forward.