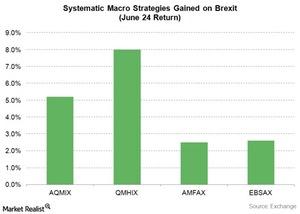 How Macro Strategies and Shorting the Pound Paid off for Hedge Funds after the UK's Brexit Vote
By Surbhi Jain

Nov. 22 2019, Updated 7:19 a.m. ET
Some made gains on the pound's slide
The Winton Diversified Fund of the London-based hedge fund Winton Capital Management reaped gains on news of the UK's (EWU) decision to exit the EU (VGK) on Friday, June 24, 2016. The event caused the pound to decline by about 10%, which translated to gains for those whose bets were placed against the currency. The fund rose by 3.1% on Friday on bets against both the pound and the euro.
SpringOwl Asset Management also gained 2% on Friday, as the UK's Brexit results benefitted its short pound position. The gain took the $300-million firm's year-to-date returns to 22% (as of June 23, 2016).
Meanwhile, the $6.5-billion Lynx Asset Management, a Swedish hedge fund, gained 5% on June 24 on account of its short position against the pound. London-based Alcova Asset Management benefitted from its short position in British stocks, gaining 1.5% on the UK's Brexit results.
Other hedge funds that gained on the UK's Brexit results include AQR Capital Management and Aspect Capital. Aspect Capital recorded a 3% gain.
Article continues below advertisement
Systematic macro funds scored on Brexit
Systematic macro funds fared well on news of the Brexit, with the AQR Managed Futures Strategy Class I (AQMIX) gaining 5.2% on June 24. (Incidentally, our series Investing in AQMIX: Everything Investors Need to Know provides an in-depth study of this fund and its performance.)
The AQR Managed Futures Strategy HV Fund Class I (QMHIX) and the Natixis ASG Managed Futures Strategy Fund Class A (AMFAX) rose by 8% and 2.5%, respectively, on the same day. The Equinox Campbell Strategy Class A (EBSAX) is another systematic macro fund that performed well, returning 2.6% to its investors. (For further insight, read EBSAX: A Structural Analysis of the Alternative Mutual Fund.)
Other hedge-fund managers who have been advising investors to sell stocks and load up on safe-haven assets such as gold include former Soros deputy Stanley Druckenmiller, Paul Singer of Elliott Management, and Ray Dalio of Bridgewater Associates.
Continue to the next and final part of this series for a closer analysis of these trends.