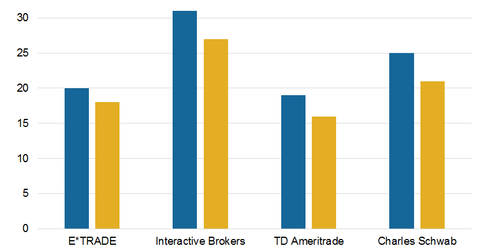 SCHW and IBKR Command Premium Valuations among Brokers
By Robert Karr

Updated
Valuations rise
Charles Schwab (SCHW) is trading at a one-year forward PE (price-to-earnings) ratio of 21.5x. Its peers in the brokerage industry are trading at an average one-year forward PE ratio of 19.3x. Historically, the company has traded at a premium to its peers because of its strong brand, large client base, and diversified assets. The company's valuation has risen over the past few months, mainly due to higher trades, increased volatility, and expanding assets. Its client assets were strong at $2.6 trillion at the end of 1Q16. The company expects to see higher interest revenues as it gathers more client assets in the upcoming quarters.
Interactive Brokers (IBKR) is also commanding premium valuations due to strong asset gathering and innovative offerings.
Article continues below advertisement
E*TRADE and TD Ameritrade
E*TRADE (ETFC) is trading at 15x on a one-year forward earnings basis. Historically, the company has traded at a discount to its peers because of its high leverage.
On a current price-to-earnings basis, the company is trading at a high multiple of 21x compared to the industry average of 24x. E*TRADE has successfully attracted a significant portion of retail investors seeking financial planning and retirement solutions. The company's customer profile gives it a reasonable expectation of consistent revenue. It also benefits from E*TRADE Bank, which serves its customers by offering FDIC-insured deposit accounts.
TD Ameritrade (AMTD) is trading at 18.5x on a one-year forward earnings basis. Overall, the sector's valuations have risen recently on increased volatility led by equities. On a trailing-12-month basis, TD Ameritrade is valued at a price-to-earnings ratio of 21x compared to the industry average of 34x.
The trading activity in the US market is expected to be subdued in the near future as concerns over infinite quantitative easing and slowing growth mount. The contraction of yields is having a negative impact on brokers' (XLF) earnings. The rise in interest rates is expected to be lower and slower due to a weak macro environment. Brokers might have to focus on expanding client assets to boost their returns.
In the next article, we'll look at the new weapons that brokers are deploying for expansion in a competitive industry.