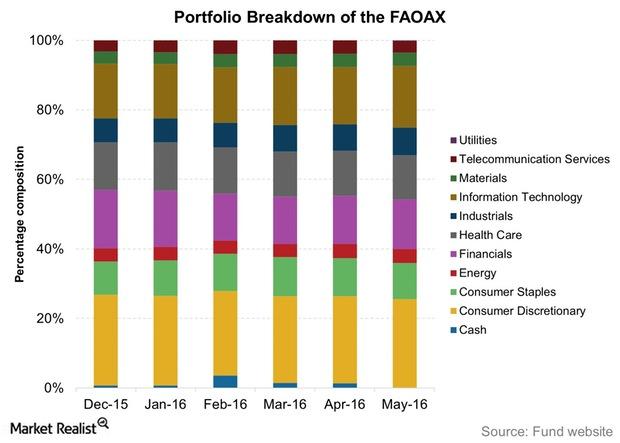 The Fidelity Advisor Overseas Fund's Portfolio Moves in YTD 2016
By David Ashworth

Jun. 25 2016, Published 12:41 a.m. ET
Fidelity Advisor Overseas Fund overview
The Fidelity Advisor Overseas Fund (FAOAX) invests at least 80% of its net assets in the common stocks of non-US issuers. The fund manager uses a combination of bottom-up and top-down research by applying fundamental analysis on each issuer's financial condition and industry position, as well as market and economic conditions while constructing the portfolio.
The fund's assets were spread across 201 holdings in April 2016 and the fund was managing $664.7 million in assets. In April, its equity holdings included Astellas Pharma (ALPMY), Vodafone Group (VOD), ORIX Corporation (IX), Deutsche Telekom (DTEGY), and Diageo (DEO).
Article continues below advertisement
Portfolio changes in the Fidelity Advisor Overseas Fund
The Fidelity Advisor Overseas Fund's (FAOAX) top sectoral bet is the consumer discretionary sector, which forms one-fourth of the fund's total assets. Information technology is second, followed by financials. These three sectors form 57% of the fund's portfolio.
Compared to the MSCI EAFE Index, FAOAX is sharply overweight in the consumer discretionary sector, to which it has allocated twice the percentage that comprises the index.
Information technology is another sector in which the fund is sharply overweight with respect to the benchmark. Stocks from the sector comprise three times the percentage they comprise in the index.
Compared to the MSCI EAFE Index, the fund is underweight in the financials, industrials, materials, and utilities sectors.
While foreign stocks form 88% of the portfolio pie, US stocks comprise ~11% of the assets. The United Kingdom is the most invested geography, followed closely by Japan. The US ranks third in terms of investment.
Sectoral changes
The graph above illustrates that sectoral changes have not been very sharp in the past six months. The trend is similar if we look back at the past 12 months. The primary observation here is that the fund manager had gone sizably into cash in February, which he has redeployed in equities in the later months.
At the stock level, there are visible changes, though. For instance, several tech stocks have been introduced to the portfolio.
How has the Fidelity Advisor Overseas Fund – Class A (FAOAX) fared in YTD 2016? Let's look at that in the next article.