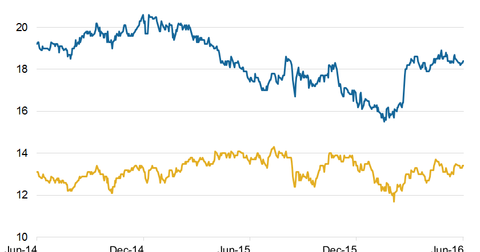 Why Berkshire Hathaway Commands a Premium over Its Peers
By Robert Karr

Updated
Equity investment
Berkshire Hathaway's (BRK-B) stock has fallen by 0.5% over the past month but has risen by 1% over the past year. By comparison, the S&P 500 Index (IVV) has risen by 2.8% over the past month and by 1.1% over the past year.
Historically, Berkshire Hathaway has been at par with or above the index. In 1Q16, the company missed analysts' estimates on lower insurance, BNSF, and service revenues. However, it expects to see an improved performance in the upcoming quarters as the dollar and commodities stabilize further.
Article continues below advertisement
Conglomerate management
The company's operations can be classified as a combination of active asset management and conglomerate management. Because it doesn't raise capital directly from markets or launch funds or financial products under its parent company structure, the only way to participate in Warren Buffett's investments is by purchasing Berkshire Hathaway equity. The company competes with asset managers Blackstone (BX) and BlackRock (BLK) for the purchase of quality assets.
Berkshire Hathaway's long track record of outperformance and its risk-averse approach to investment have enabled it to command a premium over its peers and the overall Market.
Berkshire Hathaway commands a premium over peers
Berkshire Hathaway is trading at a one-year forward PE (price-to-earnings) ratio of 18.4x, while its peers are trading at an average of 13.4x. Berkshire Hathaway has commanded a premium over the years because of its ability to redeploy excess capital from its subsidiaries toward better opportunities. These opportunities include better-performing subsidiaries and successful minority investment bets made by Buffett.
As of March 31, 2016, Berkshire Hathaway's equity portfolio was valued at $129 billion, as compared to $132 billion in the previous quarter. In the current quarter, Berkshire Hathaway's portfolio valuation has fallen marginally, and those of American Express (AXP) and Wells Fargo & Company (WFC) have fallen by 12% and 11%, respectively. Berkshire Hathaway could trade near 17x–19x as it continues to expand on profitable bets led by Warren Buffett.