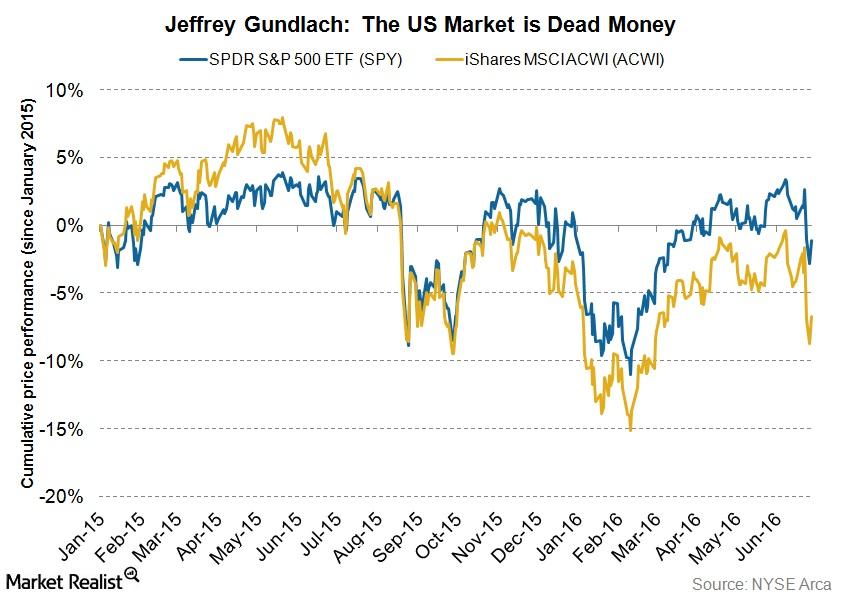 Are We in a Bear Market? Jeffrey Gundlach Weighs In
By Surbhi Jain

Nov. 22 2019, Updated 7:15 a.m. ET
Lack of cooperation is detrimental to growth
In a recent CNBC interview, Jeffrey Gundlach shared his views on the Market. According to Gundlach, people often define a "bull market" as up 20% and a bear market as down 20%. However, he would like to reject this statistical metric. His view is that cooperation is what creates economic growth. Currently, we aren't seeing any of it. Brexit is a prime and recent example. The United Kingdom doesn't want to cooperate with the European Union on everything. As a result, it decided to exit the monetary union through a referendum held on June 23.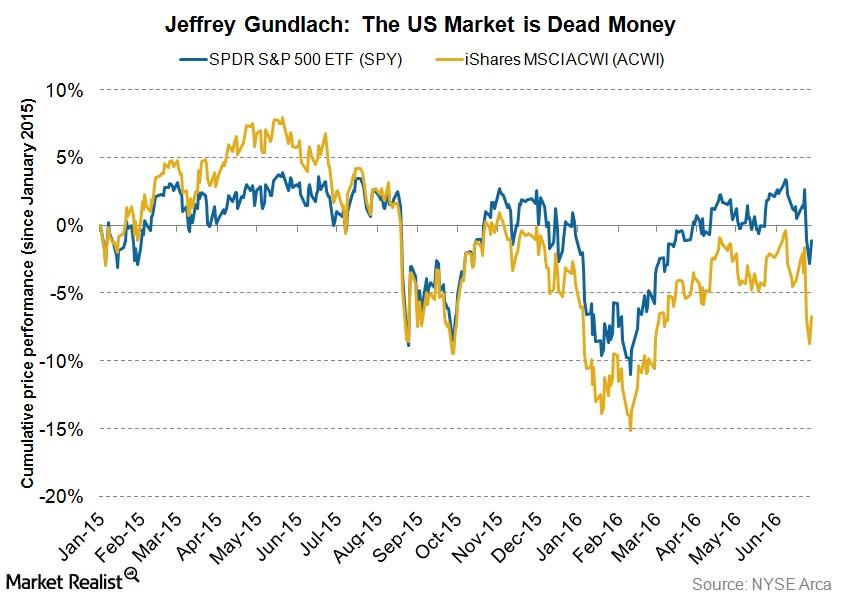 Gundlach thinks that negative interest rates are really the problem. They manipulated the Chinese markets and the interest rate markets. According to Gundlach, "there's a bear market in confidence in planning, and in the politicians and the establishment."
Article continues below advertisement
Are we in a bear market?
When asked about a bear market, Gundlach took the opportunity to present some numbers. He talked about markets in Germany (EWG), France, Spain (EWP), Japan (EWJ), and China (FXI) being massively down from their respective highs.
If you look at the numbers, he said, "Germany is down 23% from its high, France is down 22%, Spain is down 34%, Italy is down 35%, Japan is down 28%, China is down 45%, and the Morgan Stanley All World Index is down 14%." The iShares MSCI ACWI ETF (ACWI), which tracks this index, is down 10.2% from its historic high (April–May 2015).
For this reason, Gundlach is currently in capital preservation mode, stylistically all year. We'll delve into Gundlach's capital preservation tips and investment cues as we move ahead in this series.
Gundlach also talked about the S&P 500 (SPY) (IWB) (VOO) being in dead money for 18 months now. Read, Jeffrey Gundlach Explains Why the US Market Is 'Dead Money' for our analysis on the topic.
It has been kind of range bound. Right now, it's back to the bottom of its three-month range. Gundlach also has concerns about global growth and sees the downward pricing spiral coming. Let's delve a little into Gundlach's view on SPY's earnings and where they should be in the next part of this series.