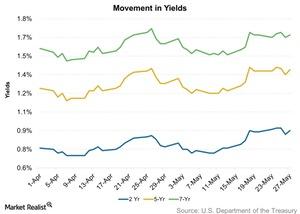 How Did US Treasury Auctions Fare Last Week?
By Lynn Noah

Updated
US Treasury auctions
The US Treasury Department held its 7-Year Treasury note (or T-note) auction for $28 billion on May 26, 2016. Fundamental demand skyrocketed, with investors from home and abroad actively participating in the auction. As a result, primary dealers' takedowns plunged to record low levels.
Primary dealers are a group of 22 authorized securities dealers or brokers. They include companies such as Credit Suisse (CS), Morgan Stanley (MS), and Goldman Sachs (GS). They're required to bid at Treasury auctions. They take up excess supply.
Funds such as the Vanguard Long-Term Treasury Fund Investor Shares (VUSTX), the iShares 7-10 Year Treasury Bond ETF (IEF), and the ProShares Ultra 7-10 Year Treasury ETF (UST) provide exposure to 7-Year T-notes.
Article continues below advertisement
On May 25, 2016, 5-Year Treasury notes worth $34 billion were auctioned. The bid-to-cover ratio rose by 7.9% compared to the previous auction, coming in at 2.6x. The bid-to-cover ratio depicts the overall demand for an auction. Meanwhile, fundamental demand from direct and indirect bidders rose drastically.
The monthly 2-Year Treasury note auction was held on May 24, 2016. The bid-to-cover ratio rose by 13.6% compared to the previous auction, coming in at 3.0x, the highest ratio year-to-date. Similarly, direct and indirect bidders flocked to the 2-Year Treasury note auction.
Direct bidders include money managers such as Wells Fargo (WFC) and Invesco (IVZ), while indirect bidders include foreign central banks.
Why there was heavy demand for the auctions?
Foreign investors are actively investing in US debt due to negative yields in Europe and Japan. Further, as it's widely speculated that the Federal Reserve will announce an interest rate hike in the coming months, investors may prefer to invest in intermediate and long-term securities, which tend to fall less in value compared to short-term securities when interest rates rise.
Investors may also prefer to buy Treasury securities in the primary market, which is highly liquid compared to the secondary market.