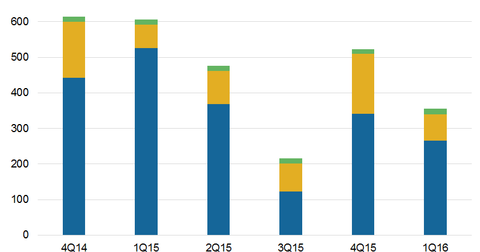 Understanding How Carlyle Management Maintained Its Margins in 1Q16
By Robert Karr

Updated
Compensation and returns
Carlyle Group's (CG) total expenses decreased to $459 million in fiscal 1Q16, as compared to $1 billion in the corresponding quarter last year. Carlyle's various funds derive value from the effective management of their operating companies as well as from the returns generated for their shareholders or limited partners.
As a result, the majority of the company's expenditures relate to compensation and benefits for fund managing teams. Compensation and benefits include basic compensation and performance fees.
Article continues below advertisement
Carlyle's compensation expenses fell further in the first quarter of 2016. Expenses stood at $311 million in 1Q16, as compared to $587 million in 1Q15, mainly due to lower appreciation in carry fund valuations and lower realized performance fees on fewer exits during the quarter. The company's equity compensation decreased to $75.4 million in 1Q16—a drop of 16% compared to 1Q15. Its first-quarter cash compensation expense of $162 million reflects a 6% decline from one year previously.
Carlyle generated a negative return on equity in the last fiscal year, which was lowest among its alternative investment peers that form part of the iShares Dow Jones US Financial ETF (IYF). In comparison, Carlyle's peers posted the following returns on equity:
Maintaining cost structure
Carlyle's general and administrative expenses dropped to $74 million, which was lower than the recent quarterly average of $7 million maintained by the company. General and administrative expenses fluctuate based on a number of factors, but primarily due to the amount of external fundraising costs and professional fees that can be explained by the low level of fund raising for the quarter. Management also expects cash compensation to remain below 2015 levels for the balance of the year.
In the next and final part, we'll analyze Carlyle's margins.