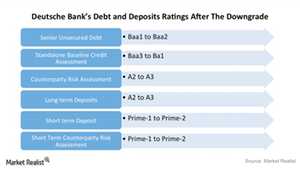 Why Did Moody's Downgrade Deutsche Bank?
By Rebecca Keats

May. 31 2016, Published 4:10 p.m. ET
Moody's downgrades Deutsche Bank's ratings
In a worrying move for investors, Moody's Investor Service (MCO) cut Deutsche Bank's debt and deposit ratings. In April 2016, the rating agency downgraded Deutsche Bank's debt rating, but this time, it cut debt as well as deposit ratings.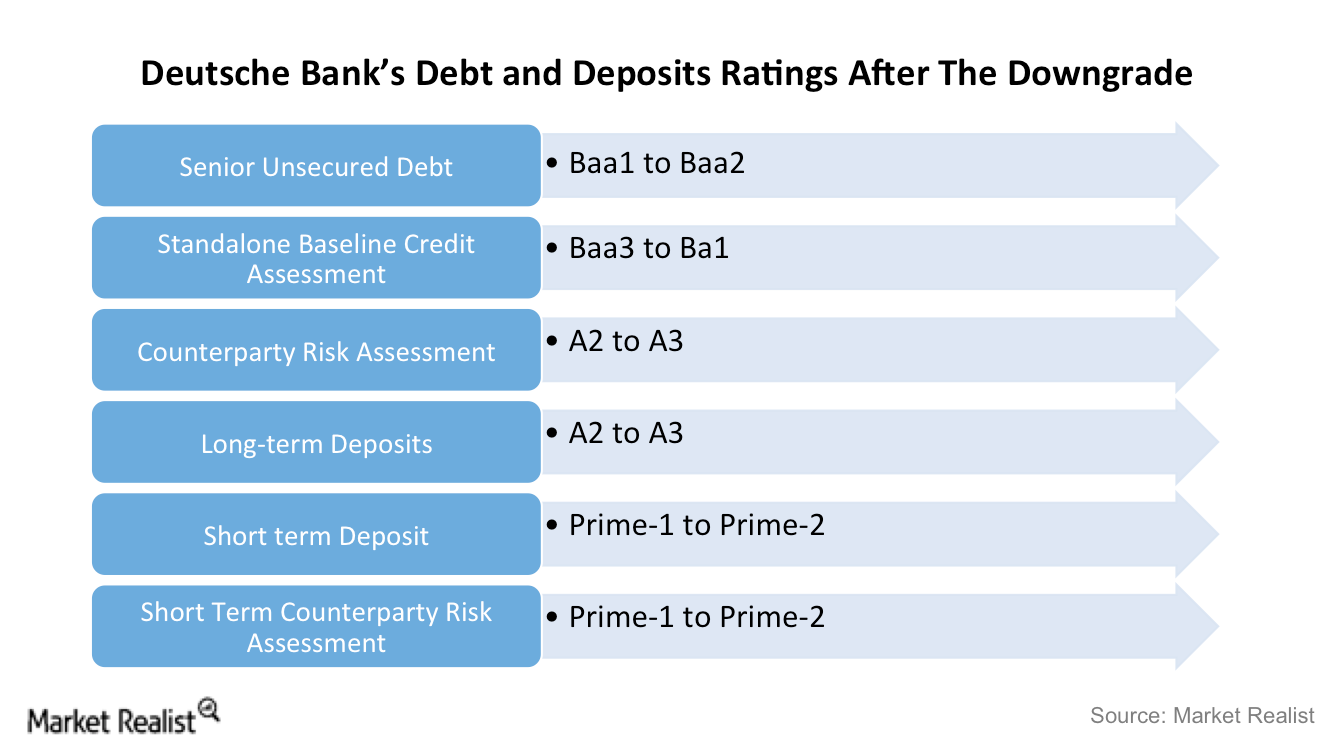 The bank's senior debt was downgraded to just two notches above junk status. The bank's deposit rating was cut from A2 to A3, senior unsecured debt rating from Baa1 to Baa2, senior unsecured debt rating to Baa2 from Baa1, standalone baseline credit assessment (BCA) of baa3 to ba1, and counterparty risk assessment of A2 to A3. Further, its short-term counterparty risk assessment was reduced to Prime-2 from Prime-1. Moody's also assigned a negative outlook to the bank's ratings and expressed concerns on its near-term strategic plan "Strategy 2020."
Investors, however, didn't seem worried. Shares rose ~7% last week.
Article continues below advertisement
Rationale for the downgrade
The main reason for the downgrade is the operational issues facing the bank in terms of implementing its plan to return to profitability in the next two to three years. Weak capital operations have led to deteriorating profits at the bank, and the company reported losses for 2015. Further, Moody's expects low interest rates and global uncertainty to hurt customer volumes and revenues for the bank's retail banking, asset management, and institutional businesses.
European banks (EUFN) like Barclays (BCS), UBS, Royal Bank of Scotland, and Credit Suisse (CS) have been operating in a hostile environment for the last year. Many of them have reported losses. Many analysts believe Deutsche Bank could be another Lehman in the making.
Read on to the next part of this series to find out how the bank is trying hard to revamp itself.