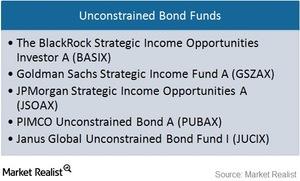 Jeffrey Gundlach Compares Donald Trump to an Unconstrained Bond Fund
By Surbhi Jain

Nov. 22 2019, Updated 7:23 a.m. ET
Donald Trump is the unconstrained bond fund of the political arena
While referring to presidential candidate Donald Trump, DoubleLine Capital's Jeffrey Gundlach commented that "Trump is the unconstrained bond fund of the political arena." Also known as "go anywhere" funds, unconstrained bond funds aren't tied to any single fixed-income sector. The managers of these funds don't have to adhere to any bond market benchmark.
Article continues below advertisement
Unconstrained bond-funds gain popularity
Unconstrained bond funds gained popularity as traditional alternatives became unattractive in the face of persistently low interest rates. Our series, An investor's guide to unconstrained bond funds should help answer your questions regarding unconstrained bonds funds. The BlackRock Strategic Income Opportunities Investor A (BASIX), the Goldman Sachs Strategic Income Fund A (GSZAX), the JPMorgan Strategic Income Opportunities A (JSOAX), the PIMCO Unconstrained Bond A (PUBAX), and the Janus Global Unconstrained Bond Fund I (JUCIX) are examples of unconstrained bond funds.
Trump isn't very firm with his views
"With an unconstrained bond fund I have no idea what I'm going to get but it's better than getting something I know I don't like" said Gundlach. Trump's nature of not being very firm about his ideas, which tend to change from week to week, led Gundlach to the comparison.
At the Sohn Investment Conference held on May 4, 2016, Gundlach also had something to say about central bankers and negative interest rates. We'll discuss this in the next part.