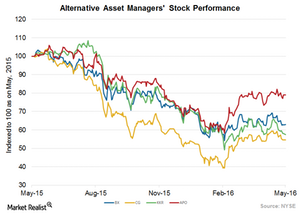 Should Investors Sell Alternative Asset Managers in May?
By Robert Karr

Updated
Alternatives declining
Alternative asset managers, including Blackstone (BX) and KKR & Co. (KKR), have declined in 2016. The Carlyle Group (CG) and Apollo Global Management (APO) have seen their stock prices rise on better-than-expected operating performance.
Over the past one year, stocks have fallen 20%–50%, reflecting weak performance and a change in investing patterns with a clear bias for low-cost ETFs and index funds. Despite the recent rout, alternatives have been deploying capital at a record pace in order to take advantage of discounted valuations.
Article continues below advertisement
Asset managers with substantial dry powder (uninvested commitments) are well positioned to take advantage of attractive buyout options. On the flip side, asset classes and equities have remained stable with weak fundamentals, which can result in either consolidation or correction in the current quarter.
Missing estimates
Blackstone missed its first-quarter earnings estimates. It missed Wall Street analysts' economic net income estimates of $0.40 and posted economic net income of $0.31. The company reported an economic net income of $150 million in the first quarter, mainly due to lower performance fees. This was partially offset by higher interest and dividend income.
The Carlyle Group reported 1Q16 EPS (earnings per share) of $0.18, beating the Wall Street analyst estimate of $0.13. The company announced a quarterly dividend distribution of $0.26 per common share. The company's holdings declined in both segments of Private Equity and Global Market Strategies. Its distributable income on a pre-tax basis stood at $129 million, and its economic net income was $89 million in 4Q15. In 1Q15, the company reported a net profit of $273 million.
KKR missed Wall Street analysts' loss per share estimates of $0.41 and posted a loss per share of $0.65. The company's net earnings declined on portfolio depreciation and lower fees.
ETFs are preferred
Institutional and retail clients prefer ETFs over alternatives, as ETFs carry lower management costs. Alternatives face competition from traditional asset managers such as BlackRock (BLK), Vanguard, and other asset managers that form part of the SPDR S&P 500 ETF (SPY).
In this series, we'll be looking at deployment, fund performance, assets under management, strategic initiatives, and valuations of alternative asset managers.
Let's start by seeing why alternatives' private equity isn't outperforming in 2016.