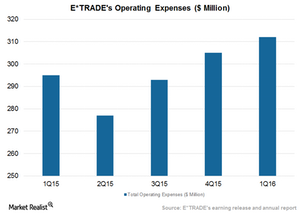 E*TRADE Expenses Rise, Interest and Provisions Fall
By Robert Karr

Jun. 3 2016, Updated 12:05 p.m. ET
Increased spending
E*TRADE Financial's (ETFC) major expenses include the following:
advertising and market development
compensation and benefits
FDIC insurance premiums
clearing and servicing
professional services
The company incurred total expenses of $312 million in 1Q16. This includes a nonrecurring charge of $14 million.
Excluding these charges, operating expenses increased by $21 million in 1Q16, primarily driven by compensation and benefits.
These items reflect the full quarter impact of the hires the company made in the December quarter, as well as seasonality related to compensation. The company's debt reduction over the past few quarters has led to a rise in its credit rating by eight notches.
Article continues below advertisement
Debt structuring
E*TRADE refinanced its new debt at a lower cost. The overall structuring resulted in a 70% fall in total debt service costs for E*TRADE totaling $50 million.
Here's how a few of the company's peers in the brokerage industry fared in terms of gross margins:
Together, these companies form 4.5% of the First Trust Dow Jones Internet ETF (FDN).
Reduction in provisions
E*TRADE's loan portfolio ended the March quarter at $4.7 billion. The portfolio contracted by ~$0.3 billion from the prior quarter.
The company reduced its allowance to $322 million at the end of 1Q16 compared to $353 million in 4Q15 and $402 million in 1Q15. This lower-end reserve balance, combined with only $3 million in recoveries, resulted in $31 million in provision benefits for the quarter.
Because the company is maintaining healthy reserves, it is adjusting its expected provision range for the current year up to $20 million per quarter. For 2016, the company is forecasting provisions from its prior range of $20 million–$30 million per quarter.