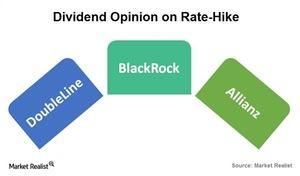 BlackRock and DoubleLine See Rate Hike Coming in June or July
By Lynn Noah

May. 24 2016, Published 12:19 p.m. ET
Will there be a US interest rate hike in June?
DoubleLine's chief executive officer Jeffrey Gundlach wrote in an e-mail that the Fed is "signaling economic data are sufficiently robust to warrant a rate increase." He also wrote, "The Fed has shifted from, 'if the data pattern improves we will have the green light to hike,' to 'unless the data pattern weakens we have the green light to hike."
In April, Gundlach said, "I think it is a reasonable strategy to start legging into the Treasury market." He thinks it's a good time to start investing in Treasuries. The iShares 1-3 Year Treasury Bond (SHY), the iShares Short Treasury Bond (SHV), and the PIMCO GNMA Fund – Class A (PAGNX) offer exposure to Treasuries.
Article continues below advertisement
Rick Rieder, chief investment officer of global fixed income at BlackRock (BLK), said in an interview with CNBC that a Brexit (British exit from the European Union) could hold the Fed back. Rieder said, "In front of Brexit, I think it's a low probability." He believes that policy officials would like to wait until July to measure the outcome and implications of a June 23, 2016, referendum in Britain that will decide whether the country remains a member of the European Union.
Rieder further said in an interview with Bloomberg Television, "July is a likely candidate" for the Fed to raise rates. "The minutes were more hawkish than you would have thought," he said, adding that the Fed will have a series of economic reports to examine before the meeting in two months' time.
Divided opinions
Mohamed El-Erian, Allianz chief economist, believes a rate hike may be coming, but that timing is uncertain. El-Erian said on CNBC. "It's hard to say between June and July because they've got this massive Brexit vote on the 23rd."
However, John Briggs, head of strategy for the Royal Bank of Scotland, said, "Don't go too crazy on the June rate hike. There's still a lot of hurdles and even if those hurdles are met, there's still a Brexit vote."
Similarly, Bill Gross, portfolio manager of the Janus Global Unconstrained Bond Fund, said, "I'm not so sure that June is out." He stated earlier this month that a weaker jobs report may deter the Fed from going ahead with a rate hike in June.
Michael Hanson, senior economist at Bank of America Merrill Lynch, changed his expectation on a rate hike from June to September. This was due to soft economic data, an uptick in inflation due to the rise in oil prices (CVX) (XOM), (CPK) and uncertainty over a Brexit.
In the final part of this series, we'll try to reconcile the differing opinions of various fund managers.