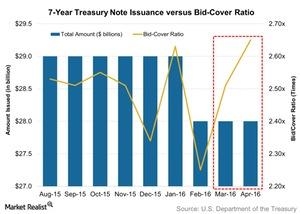 Why the Bid-to-Cover Ratio Surged for 7-Year Treasury Notes Auction
By Lynn Noah

May. 2 2016, Published 2:51 p.m. ET
Seven-year Treasury notes auction
The US Treasury Department holds seven-year Treasury notes (or T-note) auctions every month. Seven-year Treasuries are intermediate-term maturities. This means that they're in the middle of the yield curve. Future economic growth and inflation expectations are key yield drivers. Their prices are also more sensitive to changes in yields compared to short-term Treasury securities.
Article continues below advertisement
Key takeaways
The auction size was $28 billion, the same as in the previous month's auction. The auction date was April 28, 2016.
The issue's coupon rate rose to 1.625% in April from 1.5% at the March auction.
The high yield came in higher at 1.634% in April, the highest since February 2016, as compared to 1.61% in March's auction.
Overall demand analysis
Overall demand was higher than the previous month. The bid-to-cover ratio rose to 2.7x, the highest since the March 2014 auction compared to 2.5x at March's auction. After the April FOMC (Federal Open Market Committee) meeting, it's clear that the Fed won't rush to tighten the monetary policy, which is positive for intermediate-term bonds, as their value falls more when the interest rates are increased due to the inverse relationship between price and yields.
Article continues below advertisement
Fundamental demand analysis
Market demand for seven-year Treasury notes rose. The total accepted competitive bids rose from 73.3% in March to 79.8% in April.
The percentage of indirect bids rose to 65.6% in April from 57.8% in March. Indirect bidders include foreign central banks. They indicate overseas demand for the auctioned securities.
Meanwhile, direct bids, as a percentage of competitive accepted bids, nudged down to 14.2% in April from 15.5% in March. Direct bids include bids from domestic money managers like BlackRock (BLK) and State Street (STT).
Due to the rise in the market demand month-over-month, dealer takedown fell to 20.2% in April, compared to 26.7% in March. Primary dealers are a group of 22 authorized securities dealers or brokers. They include companies like Credit Suisse (CS) and Goldman Sachs (GS). They're required to bid at Treasury auctions to take up excess supply.
Article continues below advertisement
Yield analysis
After the auction, yields on seven-year Treasury notes fell four basis points from 1.64% on April 27 to 1.60% on April 28 in the secondary market.
Investment impact
Mutual funds such as the Vanguard Long-Term Treasury Fund – Investor Shares (VUSTX) and the T. Rowe Price US Treasury Long-Term Fund (PRULX) provide exposure to seven-year T-notes. The VUSTX and the PRULX rose by 0.7% and 0.8% respectively, last week.
ETFs like the iShares 7-10 Year Treasury Bond Fund (IEF) and the ProShares Ultra 7-10 Year Treasury Fund (UST) provide exposure to seven-year T-notes. The IEF and UST were up by 0.5% and 0.8%, respectively, last week.
In the next article, we'll analyze the five-year Treasury notes auction.