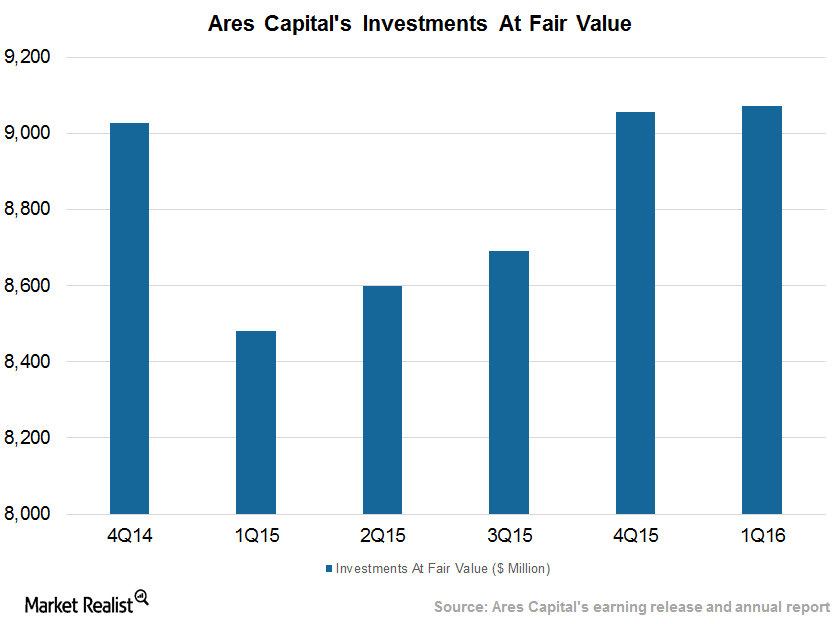 Ares Capital's Yields Are above 9% on Senior Secured Loan Program
By Robert Karr

May. 24 2016, Published 9:14 a.m. ET
Lower yielding investments
By the end of March 2016, Ares Capital (ARCC) had a diversified portfolio of 220 companies totaling $9.1 billion at fair value. The company made a total of $470.6 million in new investment commitments in 1Q16.
Based on the initial investment amount, the company's weighted average yield stood at 9.2% compared to 9.1% as of December 31, 2015, and 9.6% as of March 31, 2015. Its yields fell mainly due to the decline in the yield on subordinated certificates in the SSLP (senior secured loan program) and lower transaction flow in high yield markets. The company intends to sell these investments to the SDLP on the establishment of a diversified portfolio for the program.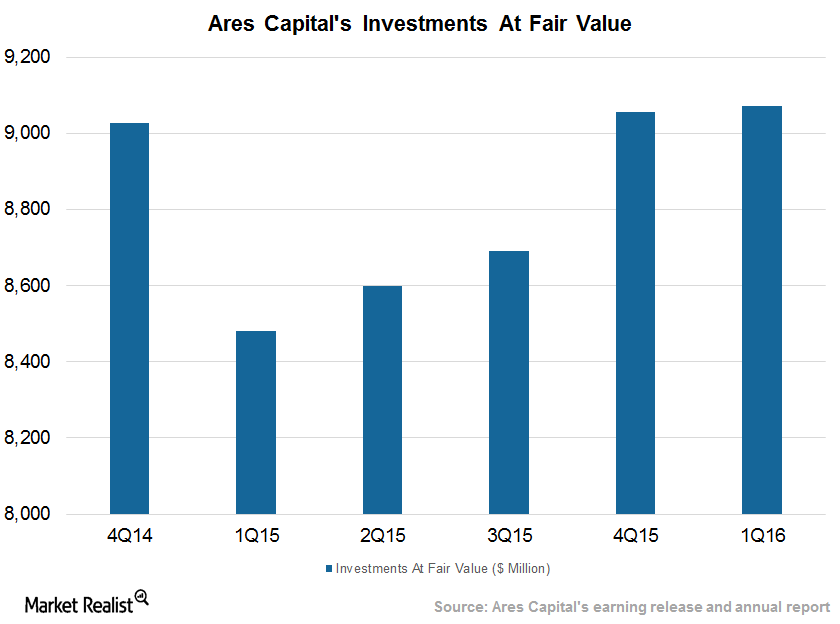 Article continues below advertisement
Ares Capital's exits in terms of repayment, selling, or other amounted to $484 million during the first quarter of 2016. Of these investment commitments, 59% were first lien senior secured loans, 33% were second lien senior secured loans, 6% were senior subordinated debt, and 2% were other equity securities.
Ares Capital continues to invest in second lien loans to either known or large companies in order to generate higher yields. The company is building its portfolio by leveraging the strength of its origination platform and its significant capital base.
Here are some of the firm's peers in investment management and their assets under management:
Together, these companies form 5.4% of the PowerShares Global Listed Private Equity Portfolio ETF (PSP).
Funding existing businesses
Ares Capital benefits from the size and scale of its operations. The company made ten out of 19 investments in existing portfolio companies. The strong existing relationships with these companies put Ares Capital in a good position to continue providing them with capital support as they grow or change ownership. This does lead to some portfolio concentration. However, it allows the company to grow with its strongest portfolio companies and avoid some aggressive transactions.