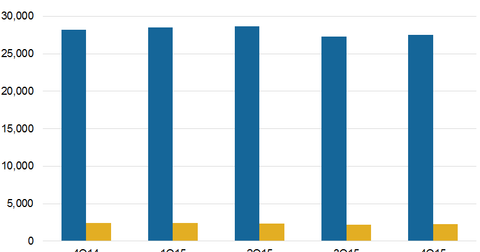 State Street's Product Innovation: The Key to AUM Base in 2016?
By Robert Karr

Updated
Custody and administration
State Street (STT) saw a decline in assets under custody and administration in 4Q15 to $27.5 trillion. That was a decline of 2% compared to $28.2 trillion in the prior year's quarter. In 2016, management expects a further modest contraction in its asset base. It plans to focus on leveraging operational performance and revenue through cross-selling and product innovation.
The company added $300 billion to new servicing commitments across all sectors and geographies during the previous quarter. It added $378 billion of new assets to be serviced that remain to be installed as of December 31, 2015. The company services 75% of its total assets in the United States, 20% in Europe, and the remaining in the Asia-Pacific region.
State Street's assets under management totaled $2.2 trillion. Let's compare that to revenues of State Street's peers:
JPMorgan Chase (JPM): $1.7 trillion
Bank of New York Mellon (BK): $1.7 trillion
BlackRock (BLK): $4.5 trillion
Together, these companies form 1.7% of the SPDR S&P 500 ETF (SPY).
Article continues below advertisement
Inorganic route to boost AUM
State Street also engages in the management of assets for its institutional as well as retail clients. Its AUM (assets under management) declined to $2.2 trillion in the December quarter of 2015. That was a fall of 8% compared to $2.4 trillion as of December 31, 2014. Compared to 3Q15, assets rose 2%.
State Street continued to attract capital in its ETF offerings, adding $11 billion in the previous quarter. Overall, its asset management business saw a net outflow of $19 billion attributable to withdrawals from institutional passive mandates and cash mandates.
The SPDR DoubleLine Total Return Tactical ETF, an active equity income ETF launched by State Street in partnership with DoubleLine, has gained more business in the current quarter as well. It has gained $2.4 billion in net flows in its 14th month and now ranks as the most successful ETF launched in the United States in 2015.
The company is also in the process of acquiring General Electric's (GE) asset management business for up to $485 million. This transaction will add approximately $100 billion to State Street's AUM.