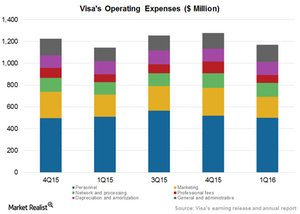 Which Payment Processors Are Generating the Highest Margins?
By Robert Karr

Updated
Expense management
Visa (V) has maintained its operating margins of more than 60% over the past few years. The company's major expenses include personnel, marketing, network and processing, and professional fees. Personnel costs fell by 2% in the December quarter compared to the prior year. This was mainly due to lower employee incentives, which resulted from lower-than-expected performance.
The company's marketing and network and processing expenses fell by 5% on a year-over-year basis. Its operating margin was a healthy 67% during the quarter.
Article continues below advertisement
American Express (AXP) has increased its spending in order to initiate new partnerships. The company was successful in forming partnerships with Charles Schwab (SCHW), one of the biggest brokers in the United States, and Sam's Club, the eighth-largest retailer in the United States. The company's expenses also increased due to spending on technology development, marketing and promotion, and higher service costs due to new partnerships. Payment processors (DIA) are spending on rebates and marketing expenses in order to gain new business.
Higher rebates and discounts
MasterCard's (MA) rebates and incentives increased by 21% to $1.1 billion in the fourth quarter of 2015. The changes in the quarterly numbers have been due to shifts in deals from the third quarter to the fourth quarter of 2015. MasterCard is focusing on finalizing more partnerships rather than spending directly on marketing efforts. The company's advertising and marketing expenses declined by 5% to $319 million in 4Q15 compared to $337 million in 4Q14.
MasterCard's general and administrative expenses include personnel, network and processing, and professional fees. General and administrative expenses rose by 3% to $998 million in 4Q15 compared to 4Q14. This was higher mainly due to adverse currency movements, excluding exchange impact expenses, which declined by 3%. In 2015, the company posted an operating margin of 54%, which was similar to the prior year period.
Next, let's see how valuations are stacking up for payment processors.