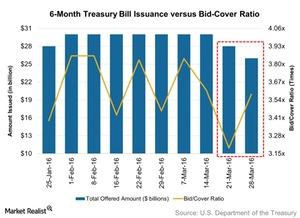 What Just Happened to 26-week Treasury Bills?
By Lynn Noah

Apr. 12 2016, Updated 12:06 a.m. ET
26-week Treasury bills on March 28
The US Department of the Treasury held the weekly auction of 26-week Treasury bills, or T-bills, on March 28. T-bills worth $26 billion were on offer—$2 billion less than in the previous week.
Please note that the bid-to-cover ratio measures the overall demand for the auction. The higher the ratio, the higher the demand, and vice-versa. The bid-to-cover ratio surged to 3.6x that week as compared to 3.2x the previous week. Year-to-date, the bid-to-cover ratio has averaged 3.7x. Short-term bills, such as 26-week T-bills, were in demand after the US Federal Reserve released a dovish statement on the prospect of rate hikes in 2016.
Article continues below advertisement
Yield analysis and market demand
Treasury bills do not pay a coupon. They are offered at a discount to face value and are redeemable at par on maturity. The high discount rate for the March 28 auction came in at ~0.48%, up from 0.44% the previous week.
Fundamental market demand skyrocketed that week, jumping from 39.2% one week previously to 62.9% due to a rise in the percentage share of indirect bidders. Indirect bids, which include bids from foreign central banks, were up to 57.5% from 31.6% one week prior. The percentage of direct bids, by comparison, fell from 7.6% to 5.5% week-over-week. Direct bids include domestic money managers like Invesco (IVZ).
The share of primary dealer bids, meanwhile, fell from 60.8% to 37.1% last week. Primary dealers are a group of 22 authorized broker-dealers, and a fall in the percentage of primary dealer bids is a sign of strong fundamental market demand. They are obligated to bid at US Treasury auctions and take up excess supply. They include firms like Goldman Sachs Group (GS) and Citigroup Global Markets (C).