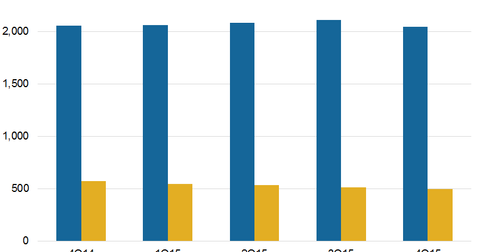 Could Foreign Exchange Become a State Street Tailwind in 2016?
By Robert Karr

Updated
Fee revenues
State Street (STT) lost $53 million in the December quarter of 2015 due to currency translations of fee income. The company reported total fee revenues of $2.0 billion in 4Q15 versus $2.1 billion in 4Q14, a decline of 2.7%. Servicing fees fell 1.5% to $1.3 billion in 4Q15. Management fees fell 5.7% to $282 million. The declines were attributable to the strong US dollar, continuing outflows from institutional investors, and lower management fees resulting from higher competition.
Article continues below advertisement
Foreign exchange revenues fell 14.9% to $143 million in 4Q15 due to lower currency volatility and client-related volumes. Global equity markets, interest rates, and shifting portfolios impacted volatility for several currencies. Brokerage and other fees worth $104 million in 4Q15 fell 16.8% from 4Q14.
However, since the beginning of 2016, the US dollar has taken a beating against many major currencies. The dollar index has fallen 5.5% year-to-date. This could continue on the back of the expected rising interest rate scenario. We expect the company to see sizable appreciation in revenues in 2016, benefiting from the fall of the US dollar given its exposure to global equities.
State Street posted EBITDA (earnings before interest, taxes, depreciation, and amortization) of $3.6 billion in fiscal 2015. Let's compare that to EBITDA for the company's peers:
JPMorgan Chase (JPM): $40.8 billion
Bank of New York Mellon (BK): $6.4 billion
BlackRock (BLK): $4.7 billion
Together, these companies form 1.7% of the SPDR S&P 500 ETF (SPY).
Net interest revenues
State Street posted net interest revenues of $513 million in 4Q15. That's a decline of 12.6% compared to 4Q14 revenues of $587 million. This was primarily due to the low-interest-rate environment that negatively impacted revenues and margins. Also, the company continued to reposition its investment portfolio.
State Street's revenue mix consists of only 20% in interest income, which means 80% comes from other fee incomes with no direct relation to interest rates. If US interest rates rise and, more particularly, the ECB (European Central Bank) rate moves closer to positive territory, segment revenues will see a positive impact.
The company's net interest margin, including balances held at the Federal Reserve and other central banks, stood at 101 basis points in 4Q15. It was been 95 basis points in 3Q15 and 104 basis points in 3Q14.