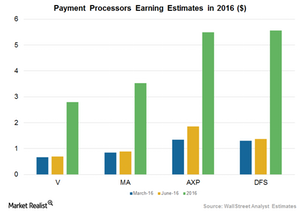 What Could Earnings Be Like for Payment Processors in 2016?
By Robert Karr

Apr. 20 2016, Updated 11:04 a.m. ET
Management expectations
Payment processors (DIA) are expecting increased spending in 2016, as emerging markets are forecast to stabilize by the second half of the year. However, companies will see some pricing pressure due to increased competition, which will be partially offset by a check on expenses.
Visa's (V) fundamentals remain strong. Its full-year operating cash flows in fiscal 2016 are expected to be $7 billion. Its operating margins are expected to be in the mid-60s in fiscal 2016. The company expects its revenue growth, excluding currency impact, to be in the low double digits.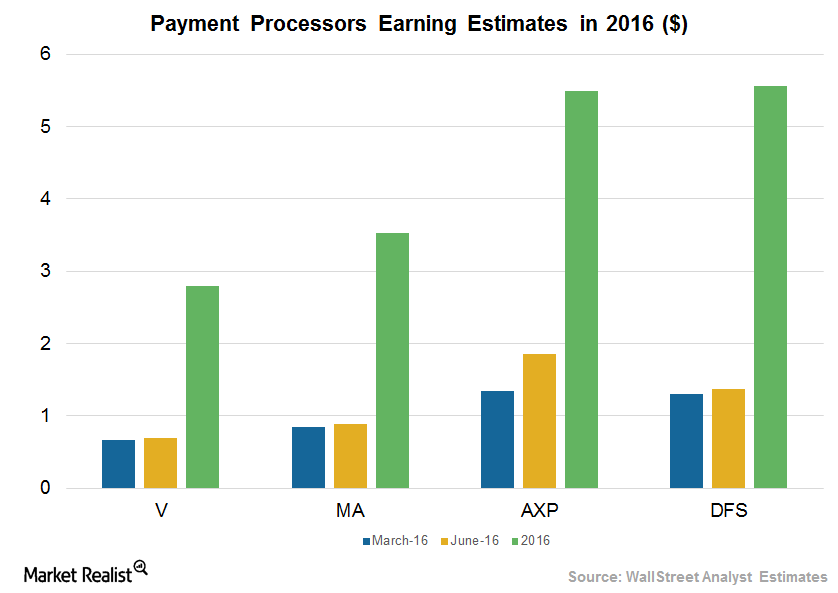 Article continues below advertisement
Foreign exchange impact
The strong US dollar could impact Visa's revenue growth by 3% in fiscal 2016. Client incentives are expected to be 17.5%–18.5%. Currently, the company is trading at a price-to-earnings ratio of 28x. Considering the high growth and low exchange volatility expected in the upcoming quarters, the stock could offer attractive returns to investors in the long term.
The foreign exchange rate could also negatively impact MasterCard's (MA) revenue growth for fiscal 2016. Client incentives are expected to be higher in the upcoming quarters. The company will focus more on payments through mobile phones and digital wearables. It has forecast slower growth in net profits from 2016–2018 compared to 2013–2015. It expects revenue growth in the low double digits in the next three years compared to 11%–14% in the prior three-year period.
American Express's target for 2017
American Express (AXP) expects its EPS (earnings per share) to be adversely affected year-over-year due to the cumulative effect of the following:
increased competition
pricing regulations
strong US dollar
2016 expiration of its co-branding relationship with Costco (COST)
The company expects its 2016 EPS to be between $5.40 and $5.70. It expects to return to positive EPS growth in 2016 and is targeting a minimum EPS of $5.60 for 2017. Analysts are estimating EPS of $5.38 for 2016 and $5.49 for 2017.