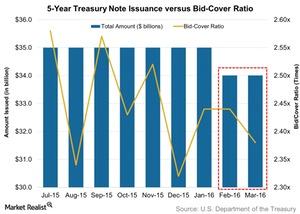 Coupon Rate, High Yield Rose for 5-Year Treasury Notes in March
By Lynn Noah

Apr. 4 2016, Updated 1:48 p.m. ET
March auction of 5-year Treasury notes
The five-year Treasury maturity is important. The difference between 30-year and five-year Treasury note, or T-note, yields gives the slope of the yield curve. The US Treasury Department holds auctions of five-year T-notes every month. Mutual funds like the Vanguard GNMA Fund Investor Shares (VFIIX) and the T. Rowe Price US Treasury Long-Term Fund (PRULX) invest in five-year Treasury notes.
Article continues below advertisement
Key takeaways
On March 29, 2016, five-year T-notes worth $34 billion were auctioned—the same as in the previous month's auction. Below are a few key takeaways:
The issue's coupon rate was set higher, at 1.25%, than it was in February's auction, at 1.125%.
The high yield for the March auction was higher, at ~1.34%, compared to ~1.17% in February's auction.
The bid-to-cover ratio fell by 2.5% to 2.4x in March's auction. The bid-to-cover ratio depicts the overall demand at the auction, and overall demand fell due to the dovish comments from Fed Chair Janet Yellen regarding future rate hikes in 2016.
Market demand analysis
Fundamental market demand, which includes bids from direct and indirect bidders, plunged from 77.3% of the accepted competitive bids in February to 61.1% in March's auction.
Indirect bidders, a category that includes foreign central banks, accounted for 53.9% of accepted bids in March, down from 67.3% in February. Meanwhile, the percentage of direct bids fell to 7.2% in March from 10.0% in February. Direct bids include bids from domestic money managers such as Invesco (IVZ) and Wells Fargo & Company (WFC).
Due to this fall in market demand, primary dealers like Credit Suisse (CS) and Morgan Stanley (MS), among others, had to take down a larger quantum of the auction. The dealer's takedown was 38.9% of accepted competitive bids, up from 22.7% in February's auction.
Yield analysis
After the auction, the yield on five-year T-notes on the secondary market moved down by eight basis points from the previous day, ending at 1.29% on March 29, as compared to 1.37% on March 28.
In the next part, we'll look at the two-year T-note auction.