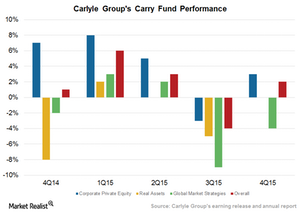 Carlyle Group's Private Equity Portfolio Has Risen in 1Q16
By Robert Karr

Nov. 20 2020, Updated 12:37 p.m. ET
Carry fund impacted by macroeconomic environment
Carlyle Group's (CG) performance is directly impacted by the global macroeconomic environment as well as financial conditions in and outside of the United States. Given the stark sell-off in global financial markets during the beginning of 2016, Carlyle's global market segment is expected to see low profitability 1Q16.
CG suffers in a downturn because of its dependence on fee-related earnings including performance fees. Consequently, this affects shareholder returns.
Article continues below advertisement
Carlyle's total carry fund valuations rose by 2% in 4Q15, led by a recovery in the valuations of private equity funds. In 4Q15, lower carry fund valuations in the corporate private equity and global market strategies segments resulted in net performance fees of $1.3 billion, lower than the $1.8 billion in the corresponding quarter of the prior year.
The fall was mainly due to strong exit activity during 2015 in corporate private equities and real estate funds. Carlyle Group generated economic net income of $400 million in 2015, a fall from $862 million in 2014.
In 1Q16, CG's major private equity holdings have risen. These holdings include Axalta Coating Systems (AXTA) at a rise of 9.6%, Wesco Aircraft (WAIR) at a rise of 21%, and CommScope Holdings (COMM) at a rise of 6.8%.
Peer comparison
Carlyle's EPS (earnings per share) stood at -$0.28 in the last fiscal year. Let's compare this to the EPS (earnings per share) growth of Carlyle's peers:
Blackstone's (BX) EPS rose 29%.
KKR's (KKR) EPS fell 50.2%.
Apollo Global Management's (APO) EPS fell 84.7%.
The company also faces competition from traditional asset managers, which form part of the iShares Dow Jones US Financial ETF (IYF).
Article continues below advertisement
Energy: The critical factor
Carlyle's global market strategies portfolio fell in 2015 due to weak performances from its energy-related investments. Some of CG's energy funds such as NGP X, Energy III, and Energy IV were negative contributors. The segment has collective AUM (assets under management) of $36 billion, about one-fifth of CG's total AUM of $182.6 billion.
As of 4Q15, energy-related net accrued performance fees across CG's natural resources, legacy energy, and global market strategies portfolios were -$32 million.
Given its new fund launches in the previous two quarters, CG continues to have a positive outlook on this segment despite the fall in energy prices since 2014. CG has already raised more than $2 billion to date by taking advantage of the Market's fear of bank lending to this sector. The recovery of energy or commodity prices witnessed during this quarter will likely benefit CG compared to sell-offs during previous quarters.
Carlyle Group's carry funds include investment funds advised by the company. Investment funds include buyout funds, growth capital funds, real estate funds, infrastructure funds, certain energy funds, and distressed debt and mezzanine funds.
Carry funds don't include structured credit funds, hedge funds, business development companies, mutual funds, or funds of funds vehicles. Carlyle receives a special residual allocation of income or carried interest.