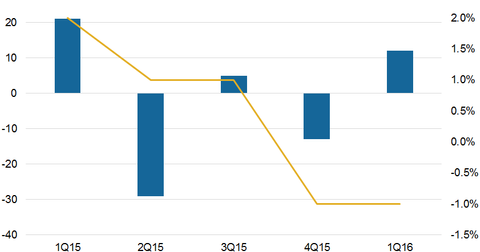 BlackRock Institutional Is Investing in Fixed Income
By Robert Karr

Updated
Institutional assets
BlackRock's (BLK) institutional assets under management (or AUM) were $2.8 trillion as of March 31, 2016. Institutional AUM formed 63% of the company's total AUM. The company is managing $1 trillion in active funds and $1.8 trillion in index funds for institutional clients.
Institutional active long-term inflows for the quarter stood at $12 billion. The inflows were led by fixed income flows, which contributed $10.9 billion during the quarter. BlackRock also raised an additional $2 billion in alternatives commitments. The inflows were partially offset by net outflows of $1.8 billion in equities.
BlackRock posted an operating margin of 40.4% in the last fiscal year. Let's compare this to the operating margins of BlackRock's peers:
Together, these companies form 8.7% of the Vanguard Financials ETF (VFH).
Article continues below advertisement
Market value rises
Total AUM for institutional clients rose by $37 billion compared to the previous quarter. This was mainly due to a rise in the value of portfolio holdings, long-term inflows, and a favorable foreign exchange impact.
The rise was led by fixed income, which gained $15 billion due to Market changes. It was partially offset by a $1.5 billion fall in equities.
BlackRock's institutional offerings' total base fees declined to $676 million compared to $763 million in the previous quarter. Institutional base fees formed 30% of the company's total fees in 1Q16, similar to the previous quarter.
BlackRock is focusing on improving communications with institutional clients. There's more demand for diversified offerings in global investment platforms and multirisk solutions.
Next, let's look at BlackRock's restructuring phase and how it has led to higher spending.