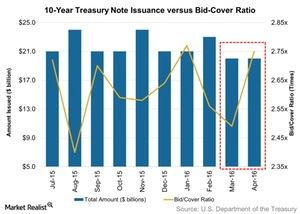 Why the Bid-to-Cover Ratio Rose for the 10-Year T-Notes Auction
By Lynn Noah

Apr. 20 2016, Published 10:30 a.m. ET
Ten-year T-notes
The U.S. Department of the Treasury conducts an auction of ten-year Treasury notes, or T-notes, once a month. The yield on the ten-year T-notes is considered as a benchmark in financial markets. It's used to compute the equity risk premiums for stocks. It's also used as a benchmark yield for real estate mortgages. As a result, it impacts returns on ETFs like the Vanguard REIT ETF (VNQ) and the State Street SPDR Homebuilders ETF (XHB).
Article continues below advertisement
Key takeaways
On April 13, ten-year T-notes worth $20 billion were auctioned—the same as the previous month.
The coupon rate came in at 1.6%—the same as March's auction.
The high yield stood at 1.8%—lower compared to 1.9% in the previous month's auction.
The bid-to-cover ratio rose compared to the previous month. The ratio was 2.75x—the highest since the January 2016 auction. It was 2.49x in March. This ratio shows the overall demand for the auction. The overall demand rose as foreign investors flocked to the ten-year T-notes auction. They think that the Fed might raise rates by the end of 2016.
Yield analysis
The yield on the ten-year T-notes fell by 2 basis points in the secondary market from the previous day to 1.8% on April 13.
Article continues below advertisement
Demand analysis
The fundamental market demand rose for ten-year T-notes from 67.6% in March to 75.3% in April's auction.
The share of indirect bidders rose to 60.0% in April from 56.5% in March. Indirect bidders include bids from foreign central banks while direct bids are from domestic money managers such as State Street (STT) and BlackRock (BLK). Direct bids rose to 15.3% in April—compared to 11.1% in March.
Due to a rise in the market demand, the share of primary dealers fell to 24.8% in March from 32.4% in March. Primary dealers act as market makers for auctioned securities. They take up the excess supply of securities. They include financial institutions like Morgan Stanley (MS) and Credit Suisse (CS).
Investment impact
Mutual funds such as the T. Rowe Price US Treasury Long-Term Fund (PRULX) and the J Hancock Government Income Fund – Class A (JHGIX) and ETFs such as the iShares 7-10 Year Treasury Bond ETF (IEF) and the ProShares Ultra 7-10 Year Treasury ETF (UST) provide exposure to ten-year T-notes.
PRULX and JHGIX fell by 0.2% and 0.1%, respectively, week-over-week. IEF and UST fell by 0.3% and 0.5%, respectively, for the week ending April 15.