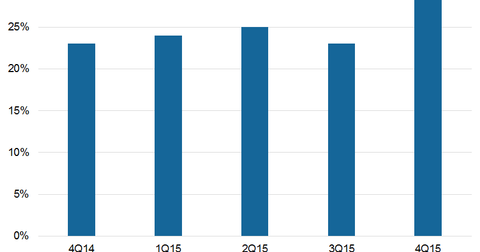 Ares Capital Has Built Foundation for Senior Secured Loan Program
By Robert Karr

Updated
SDLP program
Ares Capital (ARCC) has built a successful partnership with GE Capital's US-sponsored finance business over the last 5.5 years. The partnership was based on an SSLP (senior secured loan program) through which Ares Capital has built other strong relationships with financial sponsors and companies as well.
Since the announcement of General Electric's divestiture, Ares Capital has focused on how to best capitalize on the exit of one of the largest players in the market. The company has inked a joint venture with Varagon Capital Partners and AIG (AIG).
Article continues below advertisement
Ares Capital has established a senior direct lending program (or SDLP) under the joint venture. The SDLP will be positioned to reach similar types of borrowers and provide the same capital solutions as the SSLP has over the past years. Ares Capital has completed several transactions with Varagon Capital in the fourth quarter, which is intended to form the basis for its SDLP portfolio.
Ares Capital had two major criteria to meet in selecting a new joint venture partner:
significant experience in lending to middle-market companies
a strong balance sheet to support the growth of the program
Investment management peers have achieved the following EPS (earnings per share) increases:
Together, these companies form 0.03% of the SPDR S&P 500 ETF Trust (SPY).
Varagon partnership
Varagon has been an active syndication partner of Ares Capital since its inception. Ares Capital and Varagon have begun to build a portfolio that could eventually contribute to the SDLP. The SDLP joint venture is modeled after the SSLP, and the company expects investments in the SDLP will take a similar form and deliver similar returns over time. In 2015, Ares Capital has closed six first lien loans, totaling over $300 million, under the partnership.
GE Capital's exit puts the company in a position to be a more active provider of first lien senior loans. Over the past few years, Ares Capital has built greater syndication in capital market capabilities, enabling it to offer borrowers a complete set of capital structure alternatives. This could contribute more to structuring fee income and provide for higher returns on invested capital.