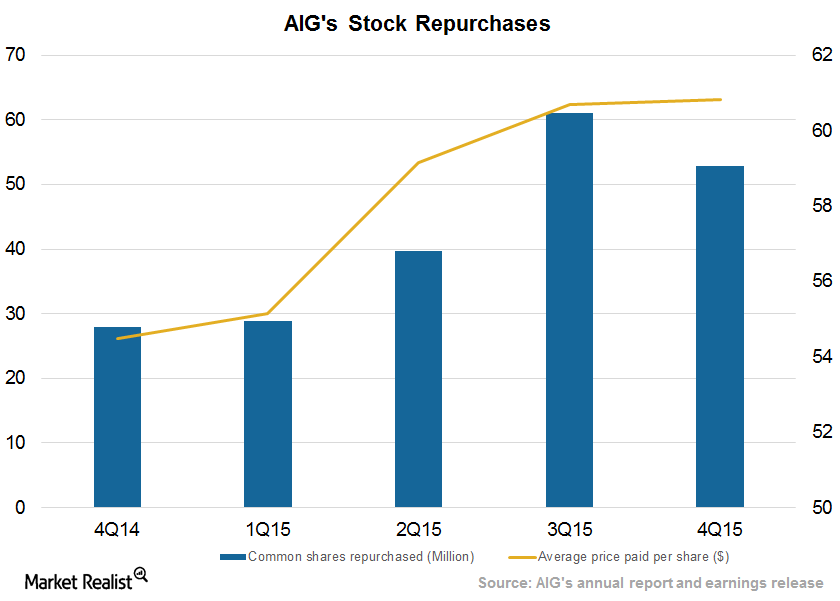 The Rationale behind AIG's Heavy Repurchases
Dividends
In 2016, American International Group (AIG) will make select investments in technology and innovation. It will also return capital to its shareholders. The company deploys its capital on new initiatives, technology upgrades, and expansion of product lines to increase its presence globally. The company rewards shareholders through dividends and stock repurchases.
The company has declared a 124% rise in its quarterly dividend on a year-over-year basis to $0.28 per share. This translates to an annualized dividend yield of 2.1%. AIG's dividend yield has remained on par with other players in the Financial Select Sector SPDR ETF (XLF). Other insurers have also repurchased their shares and returned capital to shareholders. ACE (ACE) repurchased $430 million in shares, Chubb (CB) repurchased $346 million in shares, and Allstate (ALL) undertook a share repurchase of ~$250 million.
Article continues below advertisement
Share repurchases
In the fourth quarter of 2015, AIG repurchased approximately 53 million shares, or 4.3% of its total outstanding shares, for an aggregate purchase price of $3.2 billion. The company made additional repurchases of approximately $2.5 billion through the end of February 11, 2016.
AIG authorized the repurchase of additional shares with an aggregate purchase price of up to $5.0 billion. The company also increased the quarterly dividend by 14% to $0.32 per share. AIG aims to return at least $25 billion to shareholders by 2017. The company appears to be optimistic about capital flows in the life insurance business as well as the improved risk profile of the property and casualty business.
Now let's look at what Carl Icahn has been saying about AIG. Could he be suggesting a sale?