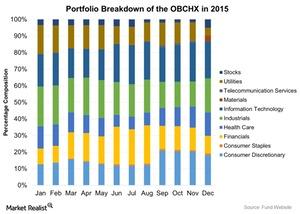 OBCHX: Exposure to Small to Mid-Size Companies
By Lynn Noah

Mar. 3 2016, Updated 10:07 a.m. ET
Oberweis China Opportunities Fund
The Oberweis China Opportunities Fund (OBCHX) has net assets of $100.1 million as of January 2016. The fund has an expense ratio of 1.95%, the highest among all the funds. The fund benchmarks its performance to the MSCI Zhong-Hua Small-Cap Growth Index.
The fund invests in companies poised to benefit from growth in Greater China. The China Opportunities Fund, under normal circumstances, invests at least 80% of its net assets in China securities. There are no restrictions on the capitalization of companies whose securities the fund may buy. However, the fund generally invests in the stocks of small to mid-size companies.
Article continues below advertisement
Portfolio composition
From the above graph, it is clear that OBCHX has reduced its exposure to financials sector while it has increased the exposure to information technology and consumer discretionary sectors.
As of December 2015, information technology, industrials, and consumer discretionary were the top three invested sectors with 22.4%, 20.4%, and 18.2% weight, respectively. The healthcare and financials sector commanded 14.2% and 10.6% weight, respectively. OBCHX has no exposure to energy and material sectors.
In the information technology sector, Vipshop Holdings (VIPS), Netease (NTES), and Tencent Holdings (TCEHY) were the top contributors to the fund returns in 2015. In the healthcare sector, China Biologic Products (CBPO) contributed most to the fund returns.
All the above-mentioned shares are included in the top ten holdings of the total portfolio assets. As of December 31, 2015, OBCHX was invested in 49 positions.
Performance evaluation
Against a backdrop of volatile Chinese equity markets, OBCHX had a strong quarter, rebounding from a difficult third quarter to finish the year roughly flat and well ahead of the strategy benchmark.
In the fourth quarter, the fund returned 12.3% compared to 9.8% for the MSCI Zhong Hua Small Cap Growth Index. For 2015, the fund returned -2.2% versus -3.5% for the benchmark. Meanwhile, year-to-date (from the end of December 2015 to February 26), the fund fell 13.5%.
Investors' guidance
The poor start by the stock market so far in 2016 has been driven by fear that the Chinese economy could worsen this year. The People's Bank of China triggered confusion and fear by setting its reference exchange rate at unexpectedly low levels early in January, suggesting that the Chinese government might tolerate further weakness in the renminbi (or yuan) to boost the country's exports.
The growth in the Chinese economy would be based on how quickly the Chinese government navigates through the current slowdown as it steers the economy to a more service-oriented and consumption-driven one.