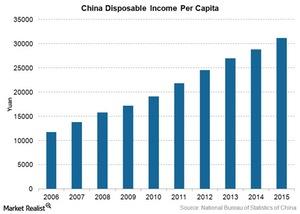 Why China's Spending and Income Support Consumption-Led Growth
By Surbhi Jain

Updated
Disposable incomes are rising
We've seen how China's (YINN) one-child policy has led to a shortage of workers and, consequently, higher wages in China. Disposable income per capita has been rising at a good pace, indicating that households now have more money to spend.
Article continues below advertisement
E-commerce to serve as an important channel
Accordingly, we may see consumer spending rise in China. The e-commerce boom we talked about in Part 8 of this series would act as a major channel here. Chinese e-commerce companies like Alibaba (BABA), Tencent (TCEHY), and JD.com (JD) would be the principal beneficiaries of China's e-commerce boom. Foreign e-commerce players like Amazon (AMZN) and eBay (EBAY) also get a chance to increase their top lines from the region.
So far, consumer spending has been rising at decent pace in China. For China to successfully translate increased spending into economic growth, the economy may need to accelerate.
Rural and urban spending to get a boost
We already see initiatives from the Chinese government to introduce the credit to rural China. Authorities have already introduced reforms to encourage more mortgages and auto loans in rural China. Rural China should be a significant contributor to the increase in overall consumer credit and consumer spending in China.
The liberalization of China's card payment systems to allow international players like MasterCard (MA) and Visa (V) would go a long way in promoting credit use in the urban economy.
Let's take a look at how consumer sentiment and confidence are evolving in China in the next part of this series.