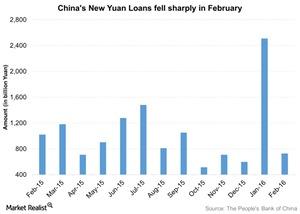 China's New Yuan Loans, Aggregate Financing Dropped in February
New yuan loans fell sharply
According to the People's Bank of China (or PBoC), new loans issued by Chinese banks fell sharply to 726.6 billion yuan ($111.96 billion) in February 2016, much lower than January's 2.51 trillion yuan. The drop in new loans was mainly attributed to the Lunar New Year holiday and a record credit surge in January. Also, new loans were lower than expected due to weak credit demand and default risk.
The broad M2 money supply rose 13.3% year-over-year (or YoY) to 142.46 trillion yuan at the end of February. M2 includes not only cash and checking deposits but also savings deposits, money market mutual funds, and other time deposits that are less liquid but can be quickly converted into cash or checking deposits.
Article continues below advertisement
China's aggregate financing plunged
Aggregate financing is the broadest measure of credit growth in the economy. It measures liquidity by adding total funds provided by a financial system to non-financial sectors and households.
China's aggregate financing also fell sharply from 3,417.3 billion yuan ($525 billion) in January to 780.2 billion yuan ($120 billion) in February. However, January's surge and the sharp drop in aggregate financing in February resulted from seasonal factors and were not due to any change in economic fundamentals. The slowdown in February is being attributed to a week-long Lunar New Year holiday, which reduced the number of working days for the month.
Financial reforms
China's financial system has been under pressure due to its economic slowdown. In 2015, China recorded growth rate of 6.9%, the lowest since 1990. China provided monetary stimulus to revive its staggering economy. The People's Bank of China (or PBoC) has already slashed the benchmark interest rates six times since November 2014 by a total of 165 basis points to 4.35%. Still, the outlook for the Chinese economy isn't very attractive.
Article continues below advertisement
In another attempt in February, the PBoC surprised the market by lowering its RRR (reserve requirement ratio) to 17%, down 50 basis points. The PBoC said the decision was made to maintain adequate liquidity, which has been tightening over the past few months due to a substantial capital outflow from the country.
Despite these stimulus measures, aggregate financing has not shown any significant improvement. It is widely expected that the PBoC may resort to further monetary stimulus in the form of more rate cuts to support the slowing economy.
Impact on mutual funds
The rise or fall in new yuan loans does not directly impact the overall performance of mutual funds. However, the Shelton Greater China Fund, the AllianzGI China Equity Fund – Class A (ALQAX), and the Fidelity Advisor China Region Fund – Class A (FHKAX) have 38.7%, 35.8%, and 33.0% weights, respectively, to the financial sector. These funds may have a slight impact due to the drop in new loans.
These funds are invested in companies such as Tencent Holdings Limited (TCEHY), Taiwan Semiconductor Manufacturing Company (TSM), China Mobile Limited (CHL), China Construction Bank Corporation (CICHY), and Industrial and Commercial Bank of China (IDBCY).
For more analysis of mutual funds, please visit Market Realist's Mutual Funds page.