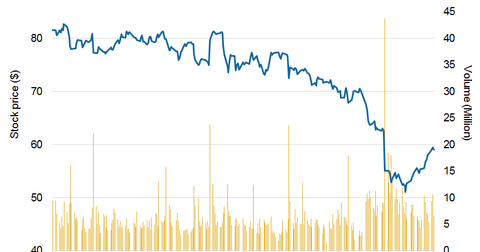 Could American Express Become a Takeover Target?
By Robert Karr

Updated
Chenault's possible departure
Investors have been exiting from American Express (AXP) and are losing confidence in the leadership of CEO Kenneth Chenault, as reflected in the company's stock price decline of 27% over the past one year. Chenault's relationship with the board has become increasingly tense due to declining brand value and weak operating performance over the past few quarters.
As a result of these developments, there's speculation that American Express could be targeted for takeover since the stock rose by 3% during the past week (as of March 8). Initially, Wells Fargo & Company (WFC) was considered to be a possible bidder, but the bank hasn't revealed any such intentions. Warren Buffett's Berkshire Hathaway (BRK-B) is the largest shareholder in both American Express and Wells Fargo.
Article continues below advertisement
How it started
American Express's (AXP) troubles began in 2015 when Costco Wholesale (COST) withdrew from their 16-year-old relationship, citing a better offer from the company's biggest rival Visa (V). Chenault announced $1 billion cost-cutting efforts and target new partnerships in order to boost business and profitability. Then American Express saw withdrawal from another longtime partner, Jetblue (JBLU), the latter opting for a relationship with Barclays (BCS) and Mastercard (MA). AXP might also lose its contract with Starwood Hotels & Resorts Worldwide (HOT), which has been acquired by Marriott International (MAR) in a partnership with J.P. Morgan Chase (JPM).
American Express is a global services company that provides payment, travel, and expense management solutions. Geared toward individuals as well as businesses, its primary offerings are credit and charge card products and travel services. American Express and J.P. Morgan Chase together make up 1.7% of the iShares Core S&P 500 ETF (IVV).