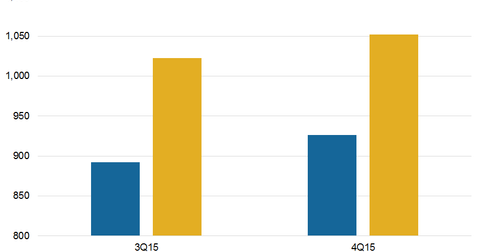 T. Rowe Price's Investment Advisory Fees Rose by 4% in 4Q15
By Robert Karr

Updated
Revenues
T. Rowe Price Group (TROW) reported total revenues of $1.1 billion, up by 3% in comparison to the corresponding quarter last year. Investment advisory fees increased by 4% to $926 million in 4Q15.
T. Rowe earns investment advisory fees for managing funds across all asset classes. The fees are determined daily based on the net assets managed in each fund. T. Rowe, like other players in fund management, charges a predetermined percentage of the fund's net asset value, which it notes in the fund's prospectus. The advisory fee is calculated daily by multiplying a fund's net assets by its effective fee rate. Meanwhile, the company receives its fee on a monthly basis.
Article continues below advertisement
Tiered and individual rates
The fee includes two components: a tiered group fee rate and an individual fund rate. T. Rowe's tiered group rate is a fixed rate for all of its price funds. The tiered group rate is based on the combined net assets of its funds.
If the net assets of all its price funds surpass $400 billion, then the weighted average rate across the pricing tiers is 27.5 basis points, as is the case currently. If the net assets are below $400 billion, then the tiered rate increases to 29.5 basis points.
T. Rowe also charges individual fund rates based on the fund's specific investment objective. The individual rate is generally a flat rate based on the net assets managed. For big funds with investments of over $15 billion and $20 billion, the company reduces the rates by 15% and 20%, respectively, to benefit investors. T. Rowe's effective 2014 fee rates for stock and bond funds varied between 39 basis points and 104 basis points.
T. Rowe posted an operating margin of 43.2% in the last fiscal year. Let's compare this to the operating margins of its peers:
Together, these companies form 8.7% of the Vanguard Financials ETF (VFH).