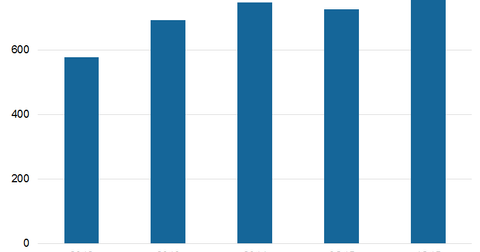 T. Rowe Price Increased Total Assets under Management in 4Q15
By Robert Karr

Updated
Assets under management
T. Rowe Price Group's (TROW) total assets under management stood at $763.1 billion, an increase of $37.6 billion from September 30, 2015, and $16.3 billion from the end of 2014. The company manages a range of US and international stocks, bonds, blended assets, and money-market mutual funds. Its portfolios and offerings are designed to meet the specific objectives of its retail and institutional investors. The company manages $487.1 billion in sponsored US mutual funds and $276 billion in other investment portfolios as of December 31, 2015.
T. Rowe posted net income of $1.2 billion in the last fiscal year. Let's compare this to the net incomes of its peers:
BlackRock (BLK): $3.3 billion
Bank of New York Mellon (BK): $2.7 billion
State Street (STT): $2.0 billion
Together, these companies form 8.7% of the Vanguard Financials ETF (VFH).
Article continues below advertisement
Market appreciation
In 4Q15, the mutual fund's net cash flows after client transfers include net outflows of $1.4 billion from the stock and blended asset funds that were offset in part by net inflows of $0.9 billion into the fixed income funds and $0.2 billion into the money market funds. The funds also saw a market appreciation of $21.4 billion during the quarter, reflecting strong performance in comparison to the prior quarter.
For the other investment portfolios, net cash inflows during the fourth quarter were $2.8 billion, including $0.7 billion of transfers from mutual funds. The cash inflows include net inflows from sub-advised clients and the firm's other sponsored portfolios that were offset in part by net cash outflows from a small number of institutional investors. The company saw a positive market appreciation of $13.7 billion in other investment portfolios.