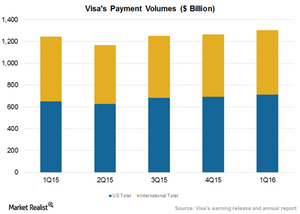 Strong Dollar Continues to Impact Visa's International Revenues
By Robert Karr

Updated
Strong dollar
Visa's (V) international volumes have been negatively impacted by the strong and rising US dollar. In December 2015, the Federal Reserve raised interest rates for the first time in six years. The Fed is expected to raise rates further in 2016, with a target federal funds rate of 1%–1.5% depending on how domestic and global economies perform.
Historically, the US dollar has appreciated against the global basket of currencies when the Fed has raised interest rates. The dollar has risen in advance of the rate hikes, but economists expect stable and lower appreciation of the greenback in 2016.
Article continues below advertisement
Visa posted strong fiscal 1Q16 earnings results backed by 11% growth in global payment volumes on a constant dollar basis. The nominal growth rate was 5%. The strong US dollar impacted the company's international growth. Its international payments volume rose by 14% compared to its US payment volume growth of 10%.
Visa's US credit card growth came in at 9% in fiscal 1Q16 compared to fiscal 1Q15. Its US debit segment expanded at a faster pace of 10% compared to fiscal 1Q15. In fiscal 2Q16, Visa expects its international volume to remain stable, with higher growth in nominal terms due to a stable exchange rate.
Visa saw net profits of $6.3 billion in fiscal 2015 ended September 30, 2015. Here's how some of Visa's peers in the payment-processing industry have fared with their net profits in the last fiscal year:
MasterCard (MA) — $3.6 billion
American Express (AXP) — $5.9 billion
Fidelity National Information Services (FIS) — $718 million
Together, these companies account for 5.6% of the SPDR Dow Jones Industrial Average ETF (DIA).
Commodities and international payments
Visa's payment volume has been negatively impacted by the fall in gasoline prices. Consumers are expected to use their savings from the fall in fuel prices for debt repayment and investment.
Visa saw growth in its international payments volume on a constant dollar basis, mainly due to spending in sub-Saharan Africa and Mexico, partially offset by weakness from Canada, Brazil, and Russia. Visa saw weakness in the Middle East and China. The company is seeing some strength in smaller markets such as Japan and New Zealand.