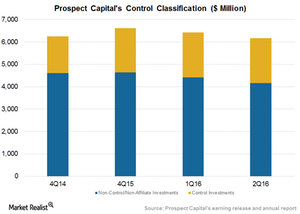 PSEC's Strategy: Online Lending, Real Estate, Control Investments
By Robert Karr

Updated
Higher controlled investments
Prospect Capital's (PSEC) controlled investments in fiscal 2Q16 (ended December 31, 2015) stood at 32.5% of its total portfolio as compared to 31.1% in the previous quarter. The company has selectively monetized its controlled positions when it has found attractive pricing. Subsequently, it has deployed the proceeds into new, attractive opportunities yielding higher returns at lower risks.
Prospect Capital (PSEC) is deploying investments for the online lending industry, with a focus on near-prime, prime, and subprime consumers as well as small business borrowers. The company generated 40% of its origination in the December quarter through online lending.
During fiscal 2014, the company entered the online lending industry jointly with National Property REIT (or NPRC). Its total business currently stands at ~$694 million across multiple third-party and captive origination and underwriting platforms.
Article continues below advertisement
The business currently delivers an expected leveraged yield of ~17%. In 2015, the company closed four bank credit facilities and one securitization to enhance its returns. It is also focusing on diversifying origination sources for its online business in order to generate more leads. Its earnings per share growth in the investment management space is as follows:
Together, these companies form 2.0% of the PowerShares Global Listed Private Equity ETF (PSP).
Consumer credit, real estate
Prospect Capital (PSEC) has a positive outlook for consumer credit throughout 2016 on the back of falling unemployment rates and commodity prices.
The company deployed $93.2 million during the December quarter into NPRC in support of the online consumer lending initiative. Its financial services holdings are returning an annualized yield of 18%–30%, reflecting strong demand for consumer credit.
The company has also made multiple investments in the real estate arena with its private REITs. The investments are focused on multifamily stabilized yield acquisitions with attractive tenure financing. The company's portfolio is benefiting from an improved housing market, increased rents, and higher occupancies.
In the next part of this series, we will discuss Prospect's higher leverage, which allows it to take advantage of low interest rates.