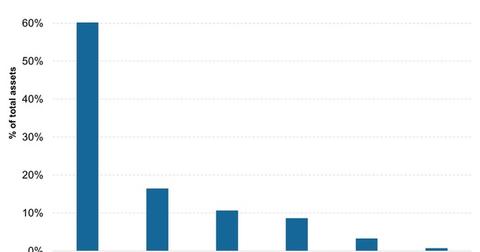 Overview of the Vanguard Pacific Stock Index Fund (VPACX)
By David Ashworth

Updated
Vanguard Pacific Stock Index Fund (VPACX)
The Vanguard Pacific Stock Index Fund (VPACX) is the only passive fund in this review. The fund invests nearly all of its assets according to its benchmark, the FTSE Developed Asia-Pacific All-Cap Index. The fund's benchmark index makes up about 2,150 common stocks of companies across market caps. Until about one year ago, the fund used to track the FTSE Developed Asia-Pacific Index, which is made up of stocks from over 800 companies. The fund is managed by Michael H. Buek, who has been at the helm since 1997.
Article continues below advertisement
Portfolio composition
As of the end of December, the FTSE Developed Asia Pacific All-Cap Index was made up of of 2,196 stocks, and the fund was invested in 2,216 stocks. VPACX's literature tells us that Japanese and Australian companies "represent a large portion of the index." Apart from these two countries, the fund is invested in stocks from South Korea, Hong Kong, Singapore, and New Zealand.
This geographic restriction makes it different from all other funds in this review because it shows that the fund is invested only in developed economies of the region. Emerging and frontier markets like India, China, Indonesia, and Vietnam, among others, are not represented in VPACX's portfolio, given the composition of the fund's underlying index.
The biggest share
Japanese equities formed 60.2% of the portfolio at the end of December 2015. Australia was a distant second at 16.5%. South Korean equities formed 10.7% of the assets.
Honda Motor Company (HMC), Mizuho Financial Group (MFG), BHP Billiton (BHP), Takeda Pharmaceutical Company (TKPYY), and Canon (CAJ) were among the fund's holdings as of the end of December. As of January 2016, VPACX was managing assets worth $5.4 billion.
Fee and minimums
The Vanguard Pacific Stock Index Fund Investor Shares (VPACX) has been around since June 1990 and has a net expense ratio of just 0.26%—the lowest among all nine funds in this review. But you're required to have a comparatively high $3,000 in order to invest in this fund, while $1 is the minimum additional investment.
Now it's time for the key metrics of VPACX's performance over the past year.