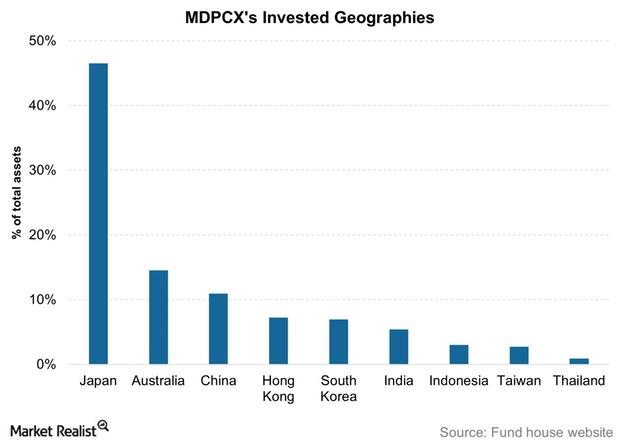 Meet the BlackRock Pacific Fund (MDPCX)
By David Ashworth

Feb. 12 2016, Updated 9:47 a.m. ET
The BlackRock Pacific Fund
The BlackRock Pacific Fund (MDPCX) invests at least 80% of its net assets in equities of companies located in Far Eastern or Western Pacific countries. These countries include Japan, Australia, Hong Kong, Taiwan, Singapore, South Korea, and India. MDPCX's fund literature states that "many of the companies in which the Fund invests are located in markets generally considered to be emerging markets."
The fund is managed by Andrew Swan and Oisin Crawley, who invest in stocks that they believe are undervalued. Fund documents clearly state that income from dividends and interest "will not be an important factor in selecting securities."
Article continues below advertisement
Portfolio composition
MDPCX's house data shows that financials are the largest sectoral holding of the fund, making up 31.5% of the portfolio as of January 2016. Consumer discretionary and information technology follow, representing a combined 28.5% of the fund's assets. Materials and utilities round off the top five invested sectors.
Compared to its benchmark, the MSCI AC Asia-Pacific Index, the fund is not substantially under or overweight any of the sectors except industrials, consumer staples, and telecom services. In all of these three, MDPCX is underweight compared to the benchmark. Though the fund's sectoral allocation is divergent from its benchmark, it is not so by a wide margin.
And the biggest share goes to …
Country-wise, Japan commands the biggest share, making up 46.5% of the portfolio. Companies from Australia and China follow, forming a combined 25.4% of the assets. Hong Kong and South Korea complete the top five invested geographies. Compared to the aforementioned index, the fund is underweight Chinese, Taiwanese, and South Korean equities while being overweight in Japanese, Australian, Indian, and Indonesian equities.
Mitsubishi UFJ Financial Group (MTU), Toyota Motor (TM), ORIX (IX), Hitachi (HTHIY), and Westpac Banking (WBK) were among the fund's 80 holdings as of the end of January. As of January 2016, the fund was managing assets worth nearly $231.5 million.
Fee and minimums
The BlackRock Pacific Fund Investor A Shares (MDPCX) has been around since October 1994 and has an expense ratio of just over 1.1%. MDPCX requires a minimum of $1,000 to invest, with $50 as the minimum additional investment. The fund can charge a maximum sales load of nearly 5.3% of offering price for A shares.
It's time now for key metrics. How did MDPCX perform in the one-year period ending January 2016? Continue to the next part to find out.